Devices
SensGuard MCP9808 wireless temperature sensor
SensGuard MCP9808 wireless temperature sensor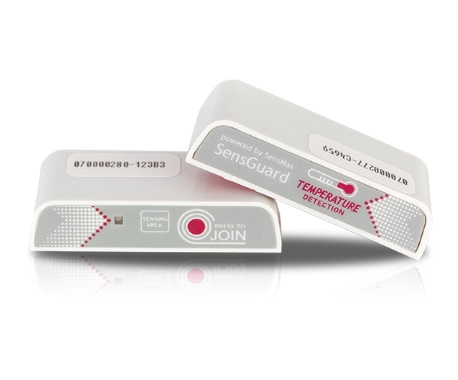 Temperature range:

-20℃ ..+55℃

Measurement accuracy :

±0.5℃

Battery life:

5 years

Battery type :

Built-in Li-Ion non flammable IEC86-4 safety standard battery 400mAh non rechargeable

Case:

Waterproof IP-65
SensGuard MCP9808 wireless temperature monitoring sensor for temperature ranges of -20°C to +55°C. Accuracy ±0.5℃. Resolution 0.1℃.
Remote temperature monitoring sensor
Wireless temperature monitoring sensor SensMax SensGuard MCP9800 designed for accurate remote temperature monitoring within range of -20°C to +55°C. This wireless thermal sensor measures temperature with an accuracy of 0.5°C every five minutes and transmits data to a data gateway via a wireless data transfer protocol.
Use this temperature monitoring sensor indoor and outdoor, as well as in wet and dusted environments. It features an IP65 protection level waterproof and dust-protected case.
Our product features an easy wireless installation. All you have to do is mount the wireless temperature sensor to any surface, and it will start measuring temperature around.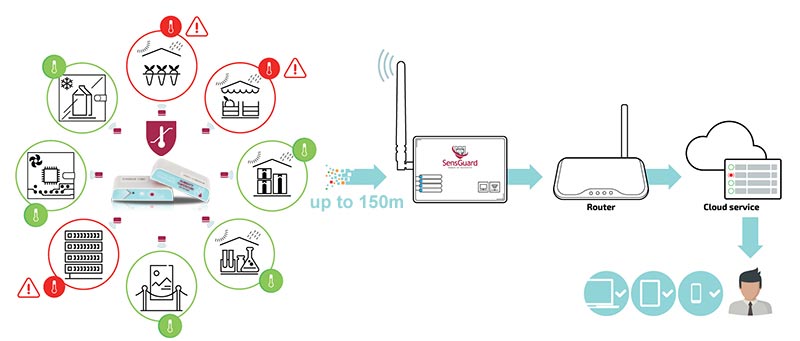 Wireless temperature sensors SensGuard MCP9808 collecting temperature statistics every 5 minutes and sending it to SensGuard online monitoring portal using SensMax data gateway. The data gateway accumulates temperature statistics from many wireless temperature sensors and forwards it to an online database for processing in various reports, as well as sending notifications for users if the temperature went out allowed range. You can find the detailed description of an online temperature monitoring software here.
Wireless temperature sensor advantages
Wireless setup – simple and easy installation.
Notifications – min/max temperature monitoring with warnings to the user if parameters went out of allowed range.
Accurate measurement – a digital thermometer for temperature monitoring with accuracy 0.5℃.
Long battery life – built-in battery enough for 5 years operation.
Waterproof – dust and water protected cases with IP65 protection level.

Applications

Wireless temperature monitoring
in freezing and cooling equipment to detect failures and prevent food spoilage in supermarkets.

Commercial properties and warehouses
remote temperature monitoring to avoid frozen pipes and frozen fire suppression systems.

Food storage warehouses
centralized temperature monitoring.

Wireless temperature transmitter
for heating and ventilation systems remote temperature monitoring.

Temperature system monitoring
for art galleries or museums.

Wireless temperature sensor
for greenhouse remote temperature monitoring.

Data center and server room
temperature monitoring.

SensGuard MCP9808 Technical Details
| | |
| --- | --- |
| Application | Wireless temperature sensor, remote temperature monitoring, temperature monitoring in warehouses, temperature monitoring in freezer, temperature monitoring in premises, cold chain temperature monitoring |
| Temperature range | -20℃ ..+55℃ |
| Measurement accuracy | ±0.5℃ |
| Measurement resolution | 0.1℃ |
| Measurement period | 5 minutes |
| Battery type | Built-in Li-Ion non flammable IEC86-4 safety standard battery 400mAh non rechargeable |
| Battery life | 5 years |
| Communication frequency | 868MHz |
| Communication range | Up to 150m |
| Data signal encryption | AES128 |
| Dimensions | 55x25x12mm |
| Fixture | Double-sided adhesive tape or mounting bracket |
| Case | Waterproof, IP65 protection |
This device appears in those solutions:
Get more possibilities for your business