Temperature and humidity monitoring for greenhouses
Temperature and humidity monitoring system for greenhouses helps you to track any temperature and humidity fluctuations online and notify you if controlled parameters went out of allowed range.
Protect yields
The system will send real-time alerts before small issues turn into significant and expensive problems.
Monitor anytime from anywhere
The system allows you to control the environment around your plants 24/7 via the internet.
Save time and resources
The automated system tracks the environmental conditions for you, so no need for manual tracking.
Comply with regulatory requirements
Remote monitoring helps you comply with regulatory requirements.
Waterproof devices
Wireless dust and water protected sensors for indoor and outdoor usage.
Description of remote temperature monitoring system for greenhouses
Greenhouses require proper environmental conditions. Therefore, temperature and humidity monitoring and control are essential for optimal growth of crops and preventing diseases. SensMax offers temperature and humidity monitoring system to improve productivity and avoid loss of plants in case of diseases resulting from an incorrect mixture of temperature and humidity in greenhouses.
The wireless greenhouse temperature monitoring system allows tracking the temperature and humidity levels in greenhouses. The system is monitoring environmental conditions for 24/7 and sending alerts in case the set temperature and humidity conditions fall out of optimal ranges. You can track the history of ecological parameters changes online.
Temperature and humidity monitoring system helping you to determine problems in an early stage and it works in real-time mode. There is an option to select individual min/max parameters of the temperature and humidity range for each wireless sensor as well as setup allowed time of violence out of recognized parameters. This feature helps to focus on severe cases, avoiding alerting many un-important events.
Wireless temperature and humidity sensors are waterproof and dust protected, so you can use them both indoor and outdoor. You can use the LAN/Internet or 3G/Mobile internet gateways for delivering statistical information to a central database. Please check recommended hardware for your project here.

How remote monitoring system works?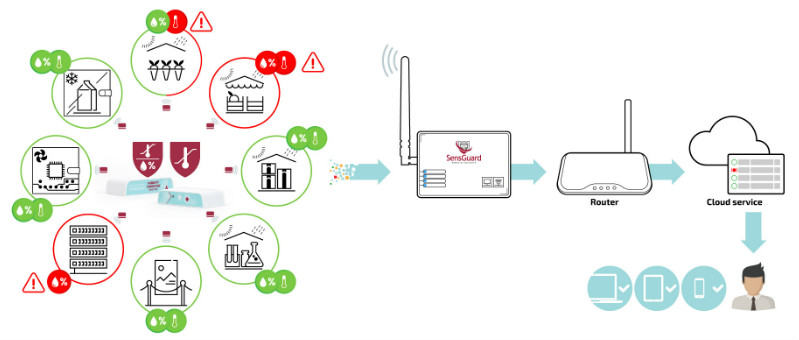 The wireless temperature and humidity sensors SensMax designed to withstand the temperature and humidity of the greenhouse environment. The temperature measurement range is from -20℃ ..+55℃ with 0.5℃ tolerance and the humidity measurement range is from 0% to 100%, with ±3.5%RH tolerance.
The wireless sensors have built-in battery that works up to 5 years.
The sensors read environment parameters and deliver them to the online reporting software every 5 minutes.
One data gateway supports up to 200 wireless humidity and temperature sensors within a radius of 150 m (or up to 500 m using signal repeaters), so you can monitor several greenhouses at the same time using one data gateway that reduces the cost of the system.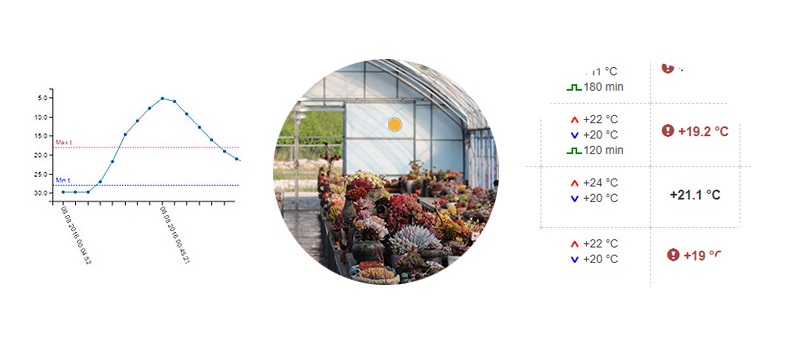 The online reporting software is displaying actual parameters of temperature and humidity for each sensor separately within 5-minute intervals.
If any of settings went out of allowed range and it stays there for a defined time, then you will get e-mail or SMS (optional) notification.
Online reporting software supports multi user environment with individual notification schedule.
Although the wireless greenhouse temperature monitoring system SensGuard performs complex operations by monitoring the greenhouse environment, installation of wireless sensors takes some minutes.
SensMax devices
Hardware included in this solution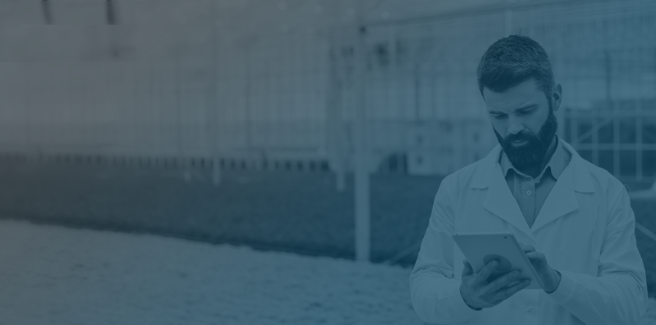 Greenhouses & Agriculture
Remote temperature and humidity monitoring system for agriculture help you to maintain the...