Temperature and humidity monitoring for freezers and coolers
Remote temperature monitoring system SensMax SensGuard helps you to automate temperature control in refrigeration, freezing and baking equipment. It is an online temperature monitoring system with alarm notifications when the temperature is going out of allowed range and various automated reports for internal use and regulatory compliance.
Reduce products spoilage
Get notified in real time when the refrigerator temperature goes out of allowed range.
Take care about trade mark image
Offer your customers the best and fresh products to keep high your trademark image.
Perform preventive maintenance
Discover problems with refrigerators before the equipment failure happens.
Save resources
Automate temperature monitoring process and get rid of manual temperature checks.
Fit regulatory compliance
Get all information from temperature and humidity sensors in easy to use online reports.
Description of temperature and humidity monitoring system for coolers and freezers
Keeping up an optimal temperature in coolers and freezers allows you to offer your customers fresh food. If the temperature falls above or beneath the optimal range food spoilage may happen. Spoiled products loss, non-compliance with regulations, equipment breakdown usually results in additional expenses.
SensMax offers remote temperature and humidity monitoring system SensGuard that provides a full picture of temperatures in refrigerators. You will get notice if temperature sensor detects refrigerator temperature went outside allowed range. Remote temperature monitoring gives you the opportunity to react to problems timely.
Temperature and humidity monitoring system works in real-time mode and detecting problems in an early stage. You can setup min/max parameters of the temperature and humidity range for each wireless remote monitoring sensor, as well as set up defrost algorithm for refrigerators to filter out operation temperature rising due to defrost times.
Remote temperature and humidity sensors designed for usage at any freezing and cooling equipment, as well as for warm displays and baking equipment. You can use waterproof monitoring sensors with built-in battery or sensors with a replaceable battery and a temperature probe. Please check the hardware list recommended for this solution below.

How remote monitoring system works?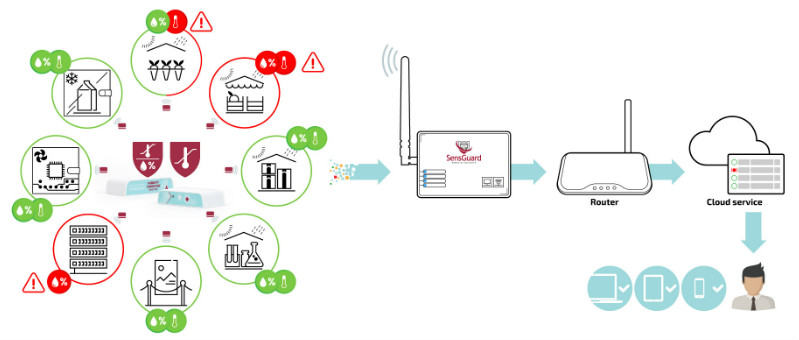 Remote temperature and humidity monitoring system SensGuard consists of three components - wireless temperature and humidity sensors, a LAN/Internet or 3G/Mobile internet gateway and online reporting software. Wireless sensors read temperature and humidity parameters and deliver them to the online reporting software every 5 minutes.
Wireless monitoring sensors are battery-powered devices that are working for up to 5 years till next battery replacement. You can choose various sensors according to your project specifics.
There are waterproof sensors for temperature monitoring within standard ranges of -20℃...+55℃ with ±0.5℃ accuracy and 0.1℃ resolution, or temperature sensors with a probe that can measure a wide range of temperatures.
The data gateway collects statistical information from up to 200 wireless monitoring sensors in up to 150m radius. It has a short-term backup memory that prevents data leakage in case of internet connectivity failures.
Benefits of the cloud reporting software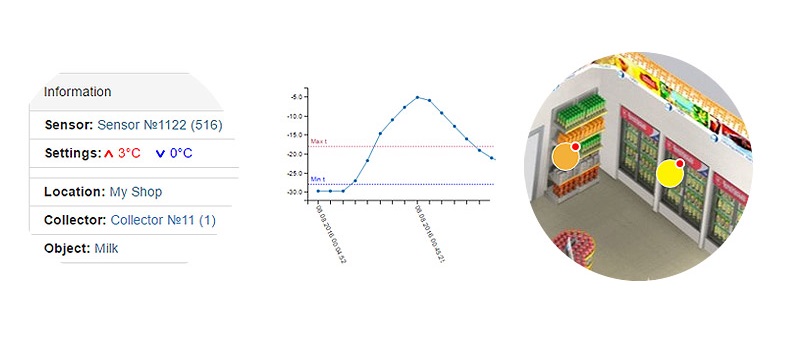 Online reporting portal SensWeb is displaying statistical information per each temperature and humidity sensor or sensors group.
You can setup allowed min/max temperature and humidity ranges and get notifications if any of parameters went outside them.
There is an option to upload a map of the store and place sensors on it, that helping you identifying problems in dedicated freezers at ease.
There is an option to use DigitalFilter feature that helps to calculate real product temperature in a freezer and avoid alarms caused by short-term temperature violations when a customer opens a door of the fridge to take out the product.
You can set up individual e-mail or SMS (optional) notifications for each system user according to his role in the company.
Low-cost sensors, real-time data processing, min/max parameters control, defrost settings, flexible notifications, sensor-on-map, DigitalFilter feature, history of events, data export and multi-user environment makes SensGuard monitoring system comfortable for using in various cold chain projects.
Cloud reporting software screenshots
Remote temperature monitoring system booklets
SensGuard_Temperature_control_leaflet_ENG_food_shop (PDF)
SensGuard_Temperature_control_ENG_presentation_food_shop (PDF)
SensMax devices
Hardware included in this solution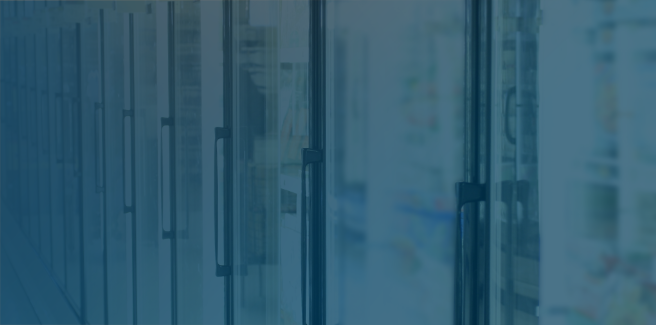 Cold chain, Food safety, Grocery stores
SensMax temperature and humidity monitoring system helps you to track environmental parameters...