Smart Buildings | Malls
Temperature and humidity monitoring system for smart buildings helps you to improve managing your property and reduce costs of operation. Keeping up a healthy environment within the intelligent building enhances user experience and improves the daily life of the people.
Good for office buildings
Controlling heating, ventilation, and cooling system work issues and balancing heating and air conditioning helping to maintain a comfortable and healthy interior environment.
Timely identification and prevention of problems
Receive real-time alerts before small issues turn into big, expensive problems.
Lower costs
Reduce costs associated with maintaining an HVAC system and prevent costly damage to the property or stored equipment.
Monitor anywhere & anytime
Control the property and the products stored therein 24/7 via the Internet.
Save time and resources
Remote monitoring system tracks temperature and humidity automatically, thus, there is no need for manual checking.
Temperature and humidity control is essential for controlling the energy consumption of a smart building. SensMax offers a remote temperature and humidity monitoring system to manage and maintain a consistent temperature in the premises that directly connected to the building exploitation costs. The remote monitoring system helps to detect heating and ventilation equipment failures at an early stage. By controlling environmental parameters, you provide a healthy and comfortable daily life for the people, as well as comply with regulatory standards of inhabited premises conditions.
The remote monitoring system works in real-time mode and notifies responsible persons about any violations of temperature or humidity that are out of predefined min/max range for a particular time. This feature allows to filter out short-term and not essential events and respond to more significant problems caused by HVAC equipment. Wireless temperature and humidity sensors used in this solution arewaterproof and dust-protected devices that you can use in any indoor or outdoor area. You can use LAN/Internet gateway for statistical data delivery from wireless sensors to an online reporting application.

How remote monitoring system works?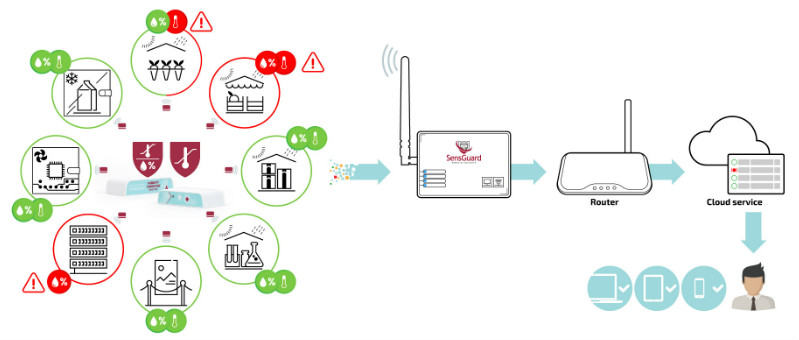 Remote temperature and humidity monitoring system for smart buildings SensGuard consists of wireless temperature and humidity sensors, a LAN/Internet gateway, and an online reporting application. The data gateway reads statistical information from the wireless sensors in a range of up to 150m. It is possible to extend the communication range to up to 500m using signal repeaters. One data gateway services up to 250pcs of wireless sensors. It has a short-term memory for backup that prevents data leakage in case of internet connectivity failures.
Wireless sensors collect temperature and humidity parameters and deliver them to the online reporting application every 5 minutes. Wireless monitoring sensors have a built-in non-flammable batterythat works for up to 5 years. You can use waterproof sensors for temperature monitoring indoor or outdoor within range of -20℃...+55℃ with ±0.5℃ accuracy and 0.1℃ resolution, as well as temperature sensors with a probe that designed for a broader range of temperatures.
Online temperature and humidity monitoring software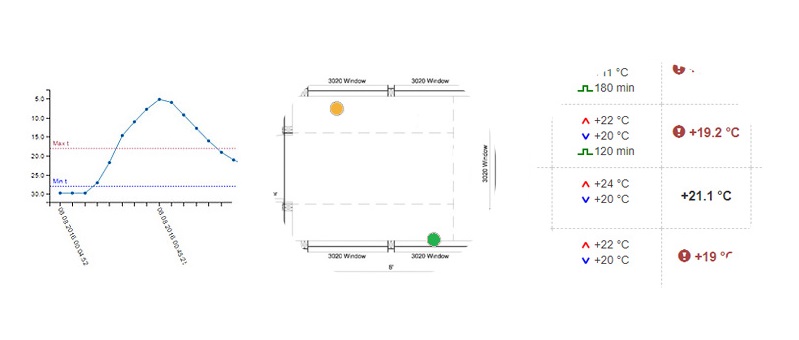 Actual temperature and humidity readings from the monitoring sensors displayed at an online reporting application that is accessible from any PC, tablet, or mobile phone using a standard Internet browser. You can see actual the state for every sensor in real-time and the full history of measurements and events for any period. If temperature or humidity went out of the predefined min/max range, you would get a notification via email or SMS (optional).
Each user can have his notification schedule, i.e., the manager of the building can have a weekly summary each first Monday, but a technical engineer will get notified in 5 minutes after the problem appeared 24/7. There is an option to upload a map of the building and place sensors on it for easy and fast identification of problematic areas. Low-cost temperature and humidity sensors, real-time data processing, min/max range control, flexible notifications, sensor-on-map, history of events, data export, and multi-user environment make SensGuard monitoring system valuable for smart buildings projects.
SensMax devices
Hardware included in this solution