Devices
Wireless bidirectional people counting sensor SensMax Pro D3 SuperLongRange
Wireless bidirectional people counting sensor SensMax Pro D3 SuperLongRange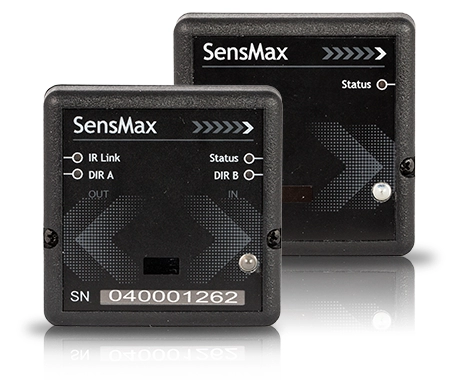 Operation principle:

Infrared beam crossing

Movement direction finding:

Bi-directional

Internal memory :

25 days of hourly data

Power supply:

AA batteries

Battery life:

up to 1 year

Communication range:

up to 800m
Wireless people counting sensor SensMax Pro D3 Super Long Range has powerful radio module with connectivity range up to 800m. Extended communication range allows to use many sensors for people counting in wide area or in complex premises like one or several buildings. This people counter model can detect visitor movement direction.
Bidirectional people counting sensor SensMax Pro D3 SuperLongRange is a wireless people counting device with a powerful radio module. The communication range between the sensor and a data gateway can be up to 800m. The people counting sensor best fit for counting visitors in buildings with many floors. The extended communication range allows using one data gateway for up to 30 sensors. This type of sensor hasa bidirectional people counting algorithm so that can detect movement direction IN or OUT. It gives you the opportunity to check how many visitors were in a particular counting zone, i.e., floor by floor in a shopping mall or an office building.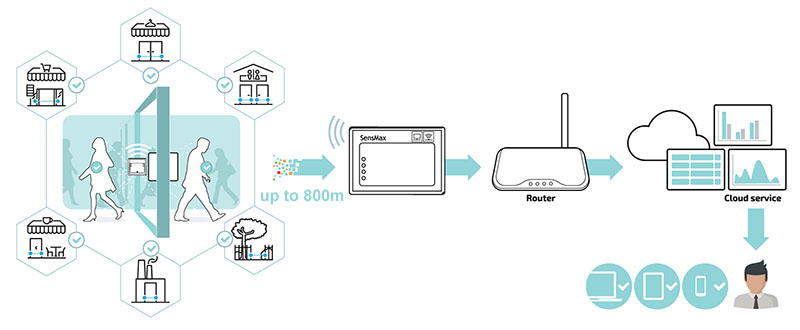 People counting sensor SensMax Pro D3 SuperLongRange delivers statistical data to a cloud portal or a local server using SensMax gateway every 20 minutes. You can choose two types of gateways according to your project specifics - LAN/Internet-based gateway and WiFi internet-based gateway. You will get various ready to use analytical, statistical, and administrative reports per hour, day, week, month, etc. Please find the online reporting portal or people counting application features here.

Movement direction detection – supports people counting for incoming and outgoing visitors.

Wireless setup – simple installation of wireless people counting sensors saves time and money.

Internal memory – bidirectional people counter backup memory for 25 days of hourly statistics.

Automatic operation – people counting sensors work 24/7 and send statistic updates to a server every 20 minutes.

Long range – wireless bidirectional people counting sensors with an extended range of communication sensor <-> gateway up to 800m.

SensMax Pro D3 Super Long Range wireless people counting sensor
Operation principle
Infrared beam crossing
Movement direction finding
Bi-directional
Internal memory
25 days of hourly data
Communication range
up to 150 m
Radio module frequency
868 MHz
Enclosure
Black or White ABS Plastic
Power supply
AA batteries
Battery lifetime
Up to 6-12 months
Data collection

Automatic data collector SensMax TCPIP SLR

Dimensions
67x67x25mm
Counting accuracy
95% 2m, >2m -1%/m
Passage width
Optimal 1m - 5m, maximum - 9m
Infrared ray angle
Three beams, 6°
Fixture
Double-sided adhesive tape or mounting bracket
Tamper protection
Sound alarm and report into software
This device appears in those solutions:
Get more possibilities for your business