Server Rooms | Data centers
Remote temperature and humidity monitoring system for environment control in server rooms helps you tracking any temperature and humidity fluctuations online, as well as getting notifications to email or mobile phone if controlled parameters went out of defined range.
Ensure data center uptime
Reduce risks of data loss caused by hardware damage because of improper temperature or humidity in the server room.
Monitoring anytime from anywhere
It is possible to monitor your data room equipment from any place 24/7 via the Internet.
Sustainability of the system
Battery life of the wireless temperature and humidity sensors for server rooms is up to 5 years.
Saving resources
Reduce electricity costs by tuning up cooling equipment and detect failures of it.
Timely identification and prevention of problems
Receive real-time alerts before small issues turn into big, expensive problems.
Description of the remote monitoring system for server rooms
Server rooms are full of expensive computers and networking equipment that are very sensitive to environmental influences. A rise in temperature can lead to overheating and even complete server failures. The incorrect humidity level can result in corrosion or static build-up of components. The remote monitoring system for server rooms provides for an affordable way to monitor temperature and humidity critical environments and enhance the safety of data by keeping optimal ambient server room temperature.
SensGuard remote monitoring system for data centers and server rooms is an automated system that records ambient room temperature and relative humidity at one or several chosen points. The data gathered by wireless monitoring sensors transmitted to online monitoring software using LAN/Internet data gateway. The software controls the temperature and humidity values gathered by the sensors and notifies you if any violation detected.

How it works?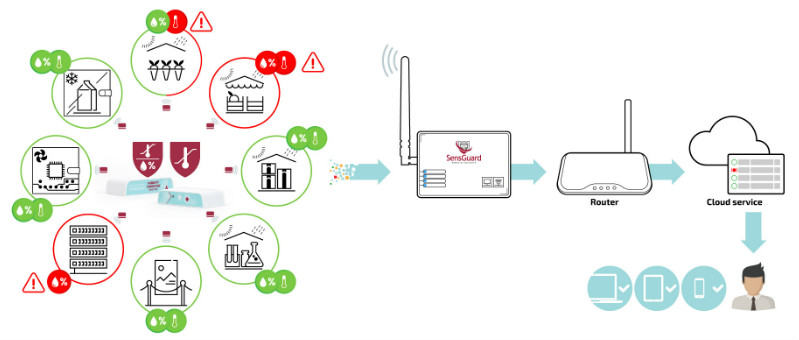 Installation of the remote monitoring system is fast and easy - stick the wireless sensors at any location and plug in the data gateway to start controlling temperature and humidity across your server rooms. Wireless sensors deliver temperature and humidity information to the online reporting application every 5 minutes. Wireless monitoring sensors transfer environmental parameters to the server using LAN/Internet gateway. One gateway supports up to 250 pcs of wireless sensors in a 150m range and a 500m range using signal repeaters. The data gateway has an internal memory for short-term backup in case of Internet connectivity failures. There are various sensor types for different temperature ranges. Please check the recommended hardware below.
Online temperature and humidity monitoring software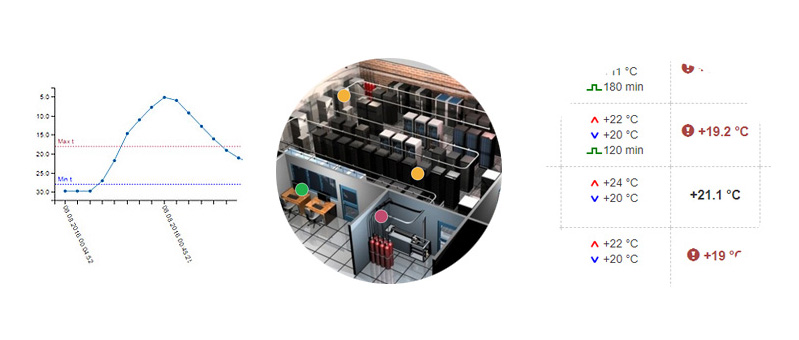 SensGuard remote monitoring system for data centers and server rooms records ambient room temperature and relative humidity per a server rack. The data gathered by sensors transmitted to online monitoring software every 5 minutes. The software compares the heat and humidity values collected by the sensors to predefined thresholds. The min/max thresholds of temperature and humidity can be set up for each wireless humidity and temperature sensor separately. If a threshold value exceeds the min/max settings, the monitoring software sends a warning to users enabling them to start countermeasures.
The monitoring system SensGuard provides the option to set up multi-level access rights and individual reporting and alarming settings. Warnings can be sent via an e-mail or SMS message directly to the operator's mobile phone. For fast spotting of the problem, there is an option to upload an interactive map of the data center and place sensors on it.
SensMax devices
Hardware included in this solution