Temperature & humidity monitoring software
Online temperature and humidity monitoring software for SensGuard temperature and humidity sensors. The online application shows actual parameters from sensors as well as generate alert notices when the temperature or humidity parameters are out of predefined range for a particular period.
Description of remote humidity and temperature monitoring software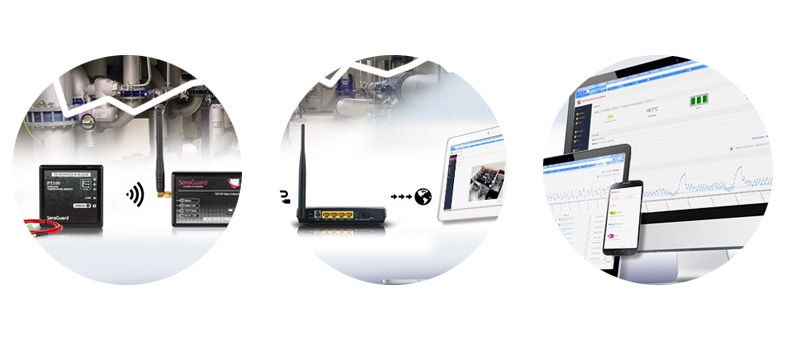 SensMax SensGuard temperature and humidity monitoring software is the online platform for temperature and humidity parameters control in real-time mode.
Online temperature and humidity monitoring software show actual parameters of temperature and humidity in detailed reports per each sensor, sensor group or the entire object.
There is an option to add temperature and humidity sensors to the object map for fast problem allocation.
You can see actual readings from the sensors in various reports, as well as a full history of events.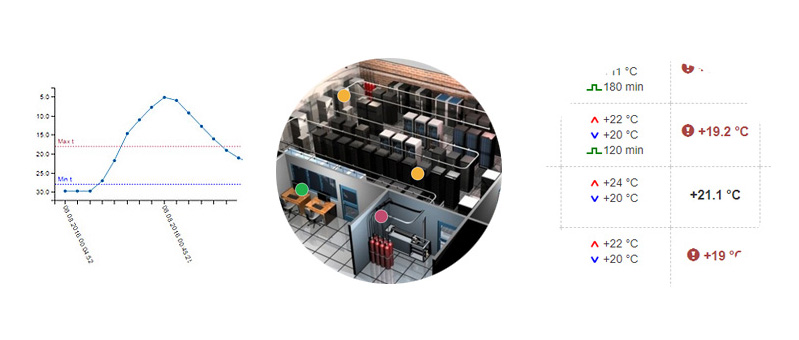 It is the cloud-based online applicationwith multi-user interface so that you can set up individual notifications schedule for every user, i.e., a manager may get a weekly report on Monday and technical staff notified in 5 minutes after the problem appears.
The temperature and humidity monitoring software works in real-time mode.
You can setup allowed min/max range of the heat and humidity for each monitoring sensor, as well as permitted violation time.
This feature allows avoiding alarm generation for short-term and non-important violations and get notified when the real problem happens.
How it works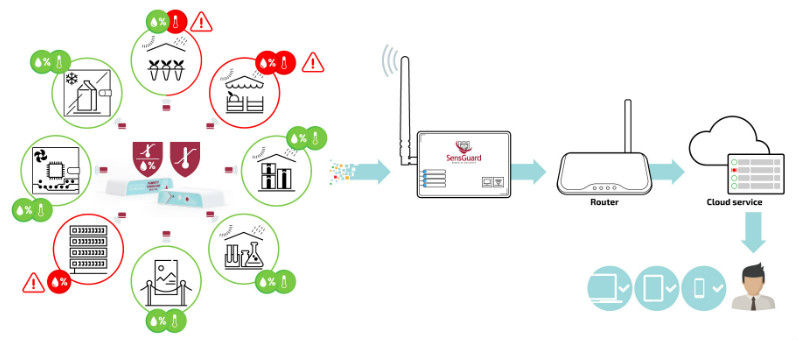 Wireless temperature and humidity sensors read environment parameters every 5 minutes and deliver the data to online reporting portal SensGuard using LAN/Internet gateways.
Online reporting portal displays temperature and humidity statistics in various reports and charts. There is an option to set up an allowed range of min/max temperature and humidity for every sensor individually, as well as setup permitted time of the violation.
Users will get automatic notifications to e-mail or SMS (optional) according to individual schedule. Monitoring system SensGuard is fully automated and designed for environmental parameters monitoring within an extensive network of sensors.
Digital filter floating temperature calculation feature for freezers
Freezing equipment in public locations like grocery stores or supermarkets used by many people daily. The temperature inside may change rapidly due to hot air flow through opened cover. It usually may cause temperature alarm in the software, but in real life product temperature itself changes slowly.
For accurate product temperature detection, there is a need to filter out rapid temperature changes caused by a short-term hot air flow.
Remote temperature monitoring software SensGuardallows to measure temperatures in two modes:
Actual temperature mode for spot measurements of the air temperature. This mode is standard for locations with rare temperature fluctuations, and there is a need to measure exact air temperature changes.
Digital Filter temperature mode for temperature metering in locations with fast air temperature changes. This mode recommended for freezers in crowded areas like grocery stores and supermarkets where air temperature changes rapidly when a customer opens a door of the fridge, and hot air comes in, but you need to control stored food temperature rather than air temperature. Digital Filter mode designed to avoid short-term temperature peaks that comes from refrigerator doors opening.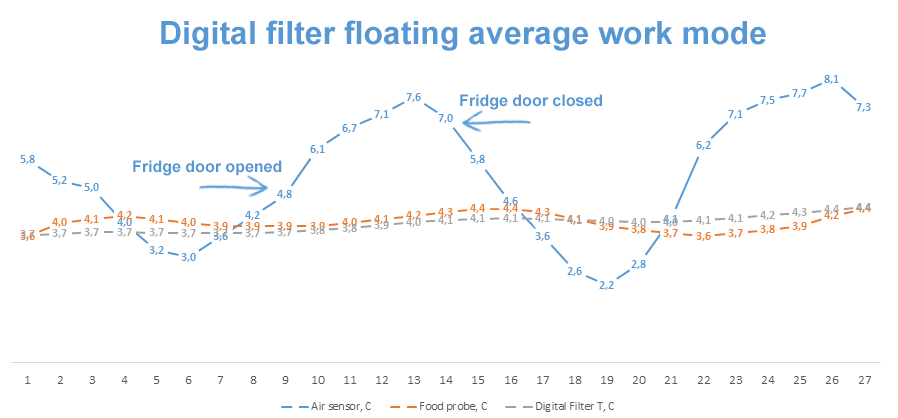 The blue line shows actual air temperature for a freezer in a grocery store. You can see air temperature changes when a customer opens the fridge to take out a product. The orange line shows temperature inside the product. You can see that it temperature changes slowly, because of product temperature inertia is higher than air has. The grey line shows Digital Filter temperature calculation without short-term peaks. This feature allows tracking the real temperature of the product, not spot-temperature of the air.
Software features:
Individual min/max parameters for each temperature and humidity sensor allows getting notifications if the setting is out of defined range.
Interactive map shows sensor installation location and helps easily identify problems.
Defrost algorithm for equipment with automatic defrost cycles to avoid unnecessary alarm spamming.
Actual temperature measurement mode for locations where air temperature has to be stable without any significant fluctuations.
Digital Filter temperature mode for ordinary locations as supermarket refrigerators where air temperature changes significantly when the client opens a door of the freezer and hot air comes in.
Multi-user interface allows to set up multi-level access rights and individual parameters of notifications frequency.