Warehouses | Storages
SensMax monitoring system allows automating control of temperature and humidity within warehouses and product storages for lowering heating and ventilation costs, as well as for controlling products and equipment storage environment parameters.
Add value for customers
Provide high-quality service standards for product storage.
Monitor anywhere & anytime
Control the property and the products stored therein 24/7 via the Internet.
Get notified
Receive notifications whenever the temperature or humidity exceeds the allowed parameters in real-time.
Save resources
Automate environment control and don't spend resources to carry out manual checks.
Lower costs
Reduce costs associated with maintaining an HVAC system and prevent costly damage to the property or stored equipment.
Description of remote temperature and humidity monitoring system for warehouses
The temperature and humidity monitoring system is a valuable asset for warehouse companies with logistics quality control processes. Installation of the temperature and humidity sensors demonstrates their commitment to the quality of stock and adding value for the customer and assists with developing a reputation for superior warehousing or property managing company with high standards of service.
SensMax offers a reliable remote temperature and humidity monitoring system to lower costs associated with maintaining warehouses and product storage. The remote monitoring system for commercial buildings continuously gathers data about the temperature and humidity levels at the property in real-time and alarms the user whenever the temperature or humidity levels are below or above the required standards, thus preventing costly damage to property and equipment in case of failures of heating/cooling systems.
Temperature and humidity monitoring system helps you to discover problems at an early stage. It controls environmental parameters in the real-time mode and notifies responsible persons if any of the settings are above or below the allowed range. You can set individual min/max levels of the temperature and humidity as well as permitted violence time for every sensor. Wireless temperature and humidity sensors have water and dust protection. You can use them both for in-house and outdoor storage control. Data from the monitoring sensors delivered to online monitoring portal using LAN/Internet gateway.

How remote monitoring system works?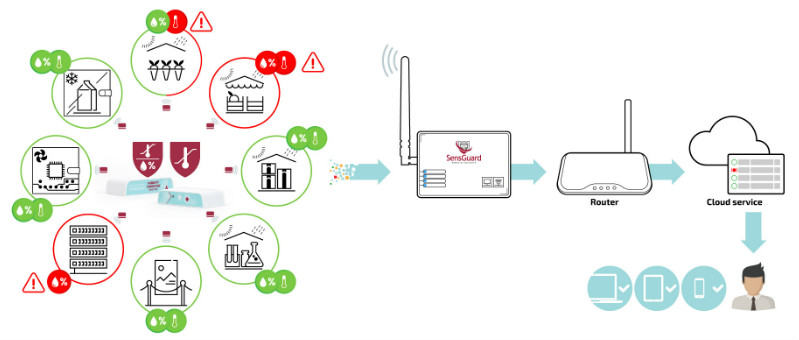 The wireless temperature and humidity sensors SensMax designed to control the temperature and humidity parameters within a range of -20℃ ..+55℃ with 0.5℃ tolerance and the humidity measurement range is from 0% to 100%, with ±3.5%RH tolerance. The monitoring sensors are waterproof, and dust protected. Therefore, you can use them for temperature and humidity monitoring both for indoor and outdoor product storage. The wireless sensors have a built-in nonflammable battery, and they work for up to 5 years. The sensors are delivering data to an online reporting system using LAN/Internet data gateway. One gateway services up to 250pcs wireless sensors within a 150m range or up to 500m range using signal repeaters.
Online temperature and humidity monitoring software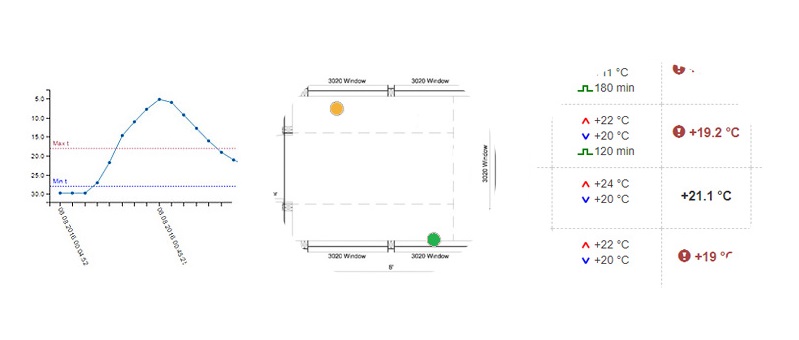 The online reporting software is displaying actual parameters of temperature and humidity for each sensor separately within5-minute intervals. There is an option toupload a map of the warehouse and place sensors on it, that helps to identify problematic areas at ease. Iftemperature or humidity parameters went out of permitted range and stays there longer than the allowed time, then you will get notified by e-mail or SMS (optional). You can see actual readings in real-time, as well as all history of events. Online reporting software supports individual notification schedules, as well as you can select what objects belong to every user. Wireless installation of the temperature and humidity monitoring system takes some minutes only.
SensMax devices
Hardware included in this solution