Devices
SensMax S1 wireless people counting sensors
SensMax S1 wireless people counting sensors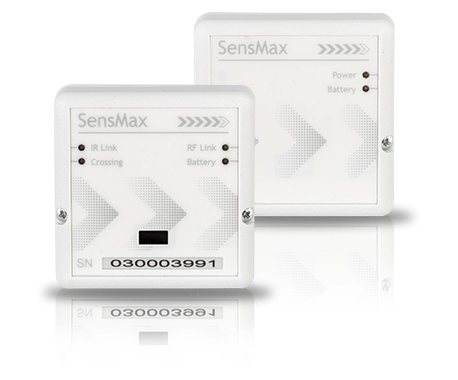 Operation principle:

Infrared beam crossing

Movement direction finding:

Unidirectional

Internal memory :

25 days of hourly data

Power supply:

AA batteries

Battery life:

up to 2 years

Communication range:

S1 Pro up to 50m, S1 LR - 150m, S1 SLR - 800m
SensMax S1 wireless people counter. Unidirectional people counting. Battery life 2 years.
SensMax S1 Pro 241 EUR | SensMax S1 LR 255 EUR | SensMax S1 SLR 285 EUR
Description of wireless people counting sensor SensMax S1
SensMax S1 wireless people counting sensor works from standard batteries. The people counter creates invisible infrared rays and every visitor crossing counts. This sensor has uni-directional people counting algorithm.
The installation of the people counting sensors is simple, and it takes some minutes only. People counters automatically sending data to the central database via SensMax gateway.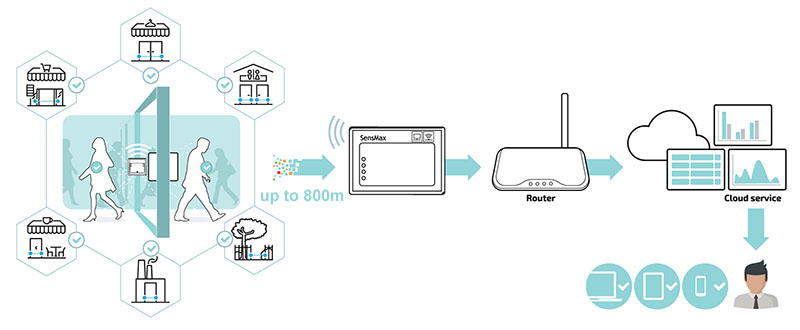 There are three modifications of people counting sensors: SensMax Pro S1, SensMax S1 LR, and SensMax S1 SLR with different communication ranges of up to 40-50m, up to 150m, and up to 800m. You can choose proper people counting sensor model according to premises size and distance to the data gateway. We recommend using SensMax Pro S1 and SensMax S1 LR for people counting in small and medium premises, and SensMax S1 SLR for counting people in a big building with many floors.
Wireless people counting sensors work from standard AA batteries for up to 2 years. People counting sensor SensMax S1 has internal memory for data backup of 25 days of hourly statistics.
People counting sensors delivering statistical data of visitors to a cloud portal or a local server using SensMax gateway every 20 minutes. There choose from two types of gateways according to your project specifics - LAN/Internet-based gateway for any people counting sensor model and WiFi/Internet-based gateway for LR and SLR people counters.
You will get a list of ready to use analytical, statistical, and administrative reports per hour, day, week, month, and year per each people counting sensor or per group of sensors. You are welcome to check the online reporting portal or locally installed application features here.
Benefits of SensMax S1 people counting sensors
Wireless setup – easy and fast installation without any mounting or cabling works.
Internal memory – people counter sensor has built backup memory for 25 days of hourly statistics.
Long battery life – wireless people counter working on standard AA batteries for up to 2 years.
Automatic operation – people counting sensors collecting statistics 24/7 and sending updates to a central database every 20 minutes.
Long range – people counting sensors can connect the data gateway in the distance up to 800m.

Technical parameters of SensMax S1 people counting sensor
Application
People counting in retail store, people counting in shopping mall, people counting in office building, people counting in washroom, people counting in library, people countign in museum
People counting technology
Infrared beam crossing
Movement tracking
Uni-directional
Internal memory
25 days of hourly data
Connectivity range

SensMax PRO S1 up to 50m

SensMax S1 LR up to 150m

SensMax S1 SLR up to 800m

Radio module frequency

SensMax PRO S1 2.4 GHz

SensMax S1 LR 868 MHz

SensMax S1 SLR 868 MHz

Data gateways supported

Automatic data collector SensMax TCPIP

Case
Black or White ABS Plastic
GDPR/Privacy law
Anonymous people detection, 100% compliant, no filming
Counting accuracy
Up to 99%
Passage width
Optimal 1m - 5m, maximum - 9m
Infrared ray angle
One beam, 6°
Fixture
Double-sided adhesive tape, Plastic mounting bracket
Tamper protection
Sound alarm and report in software
Power supply
AA batteries
Battery lifetime
Up to 2 years
Dimensions
67x67x25mm
This device appears in those solutions:
Get more possibilities for your business