Devices
Wireless people counter SensMax Pro S1 SuperLongRange
Wireless people counter SensMax Pro S1 SuperLongRange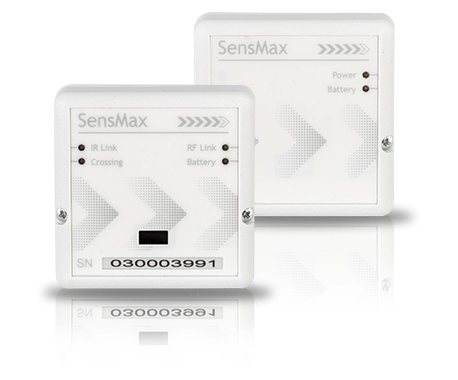 Operation principle:

Infrared beam crossing

Movement direction finding:

Unidirectional

Internal memory :

25 days of hourly data

Power supply:

AA batteries

Battery life:

up to 2 years

Communication range:

up to 800m
Wireless people counter SensMax Pro S1 SuperLongRange designed for counting people in complex premises. The sensor has a powerful radio module with advanced connectivity range up to 800m allows to install many devices in one or several buildings and collect statistics using one data gateway. People counters sending hourly statistics to a cloud portal or to a local server where you can see data in various ready to use reports.
SensMax Pro S1 SuperLongRange is a wireless people counting sensor with a powerful radio module. Wireless sensors can send statistical data to a gateway for a distance of up to 800m. This type of sensors used mostly for counting people in complex premises using many sensors and one data gateway, for example, counting people in a big building with many floors or even in some nearby buildings.
Wireless people counting sensors work from standard AA batteries for up to 2 years.Please note that you need to choose the same type sensors and gateway, marked as SuperLongRange or SLR. One SuperLongRange data gateway can serve up to 60 SensMax Pro S1 SLR sensors. People counting sensor SensMax Pro S1 SuperLongRange has internal memory for data backup of 25 days of hourly statistics.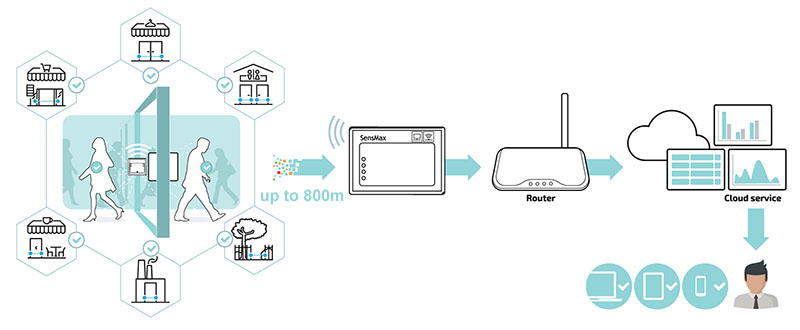 People counting sensors delivering statistical data of visitors to a cloud portal or a local server using SensMax gateway every 20 minutes. There choose from two types of gateways according to your project specifics - LAN/Internet-based gateway and WiFi internet-based gateway. You will get a list of ready to use analytical, statistical, and administrative reports per hour, day, week, month, and year per each people counting sensor or per group of sensors. You are welcome to check the online reporting portal or locally installed application features here.

Wireless setup – easy and fast installation without any mounting or cabling works.

Internal memory – people counter sensor has built backup memory for 25 days of hourly statistics.

Long battery life – wireless people counter working on standard AA batteries for up to 2 years.

Automatic operation – people counting sensors collecting statistics 24/7 and sending updates to a central database every 20 minutes.

Super Long range – people counting sensors can connect the data gateway in the distance up to 800m.

SensMax Pro S1 SuperLongRange people counter
Operation principle
Infrared beam crossing
Movement direction finding
Unidirectional
Communication range
up to 800 m
Radio module frequency
868 MHz
Internal memory
25 days of hourly data
Enclosure
Black or White ABS Plastic
Power supply
AA batteries
Battery lifetime
Up to 2 years
Data collection

Automatic data collector SensMax TCPIP SLR

Dimensions
67x67x25mm
Counting accuracy
95% 2m, >2m -1%/m
Passage width
Optimal 1m - 5m, maximum - 9m
Infrared ray angle
Two beams, 6°
Fixture
Double-sided adhesive tape or mounting bracket
Tamper protection
Sound alarm and report into software