Customer survey system for retail stores
Client satisfaction survey system SensMax helps you to gather feedback from customers about your company service or product quality. Customer satisfaction measurement data helps you to improve processes, service quality and user experience to make customers happier. The system provides automatic Net Promoter Score calculation.
Wireless devices
Customer survey button is the wireless device that works from standard AA batteries.
Fast & Easy installation
Wireless survey button is easy to install without any cabling works.
Long battery life
Visitor survey buttons battery life is up to 2 years.
Flexible system architecture
You can install reporting software on your servers or use SensMax cloud reporting portal.
Anti-SPAM filter
Intelligent digital algorithm filters out spam pressings to any of emotions.
Description of customer survey system for retail stores
SensMax customer satisfaction measurement system is designed for collecting feedback from visitors or customers in retail stores. Customer satisfaction measurement system helps you understand your customers' opinions and determine problematic retail stores where it is needed to improve customer experience or increase loyalty to your brand, services or products.
SensMax customer satisfaction survey system records customer feedbacks and monitors customer satisfaction trends in every store with centralized and automated reporting. The reporting software displays statistical data within a daily summary or per 5-minute time span, depending on the customer survey button model.
Wireless client satisfaction survey button is elementary to install everywhere you need - on a table, on a wall, or on a pillar. It has a placeholder for a printed question and three types of smileys. Customer feedback statistics delivered to the server using SensMax gateways via LAN/Internet or WiFi Internet connection. One gateway is serving many wireless buttons.
Each customer can leave his feedback by pressing a dedicated smiley. A built-in filtering system helps to avoid spam pressings. There is an option to check to see per-store customers replies statistics and NPS index calculation report in the SensWeb cloud portal or install reporting software on your servers.

How customer survey system works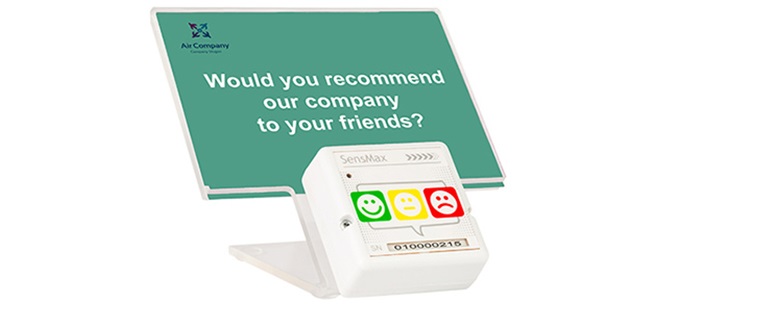 The customer survey system consists of three components – wireless feedback buttons with smileys, a data gateway, and reporting software that displays statistical data gathered from the buttons. Wireless customer survey buttons work from standard AA batteries for up to 2 years. Question holder made from transparent plastics included into device kit.
The buttons and data gateway presented in different models, with a connectivity range – 50m, 150m, 800m. The data gateway delivers statistics from the buttons to the central server via LAN/Internet or WiFi Internet connections. Wireless survey devices are easy to installtowards a cash desk, on a table, on a wall, or any other place using two-sided adhesive tape.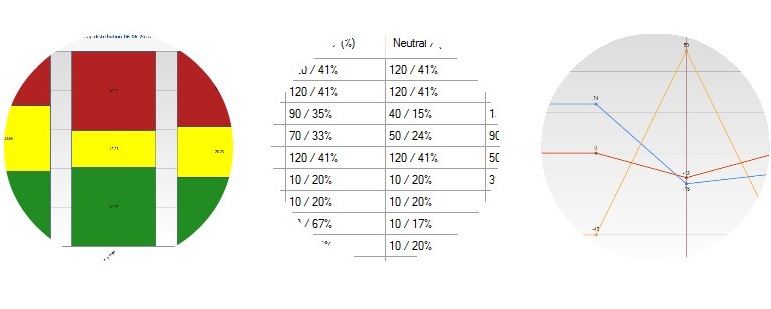 Customer replies displayed in the reporting application SensMax Easy report. You can check it in graphical and tabular reports for every store. You can see statistical data as a daily summary for a standard version of customer survey buttons and per 5-minute time spans for real-time feedback buttons.
For your convenience, there is Network Promoter Score index calculation report per every store as well as per group of stores. Customer survey system software is compatible with people counting system data, so you can combine people visiting statistics and their feedbacks within combined reports.
There is an option to export data from customer survey system to any 3rd party reporting software using XML, CSV, or MySQL data export functionality.
Net Promoter Score index calculation

Statistical data from the SensMax client satisfaction metering system displayed in various reports per day, month, quarter, and year. You can see sort of diagrams or switch to data tables view, as well as export all data in PDF, XLS or CSV data formats. SensMax Easy report software provides automatic Net Promoter Score reporting.
The Net Promoter Score is a customer loyalty metric. It determines a clear and easily countable customer satisfaction score as a coefficient between people that promotes and detracts your company. The NPS is a powerful tool to understand customer satisfaction and indicate the potential growth of information spreading about your company's services or products.
The NPS shows how likely a respondent would recommend your company's services or products to his friends or colleagues. The NPS index calculated by formula NPS = Promoters (%) - Detractors (%).
Promoters are all persons that respond by highest marks, Detractors – persons that respond negatively or behind neutral, and Neutral persons not counted in the NPS. The bigger NPS you have the most likely customers will share positive feedbacks with their relatives, and if NPS is low or negative, then you have to call to action to improve your company processes, staff work quality, and service quality.
SensMax devices
Hardware included in this solution