Devices
SensMax SE outdoor people counting sensor
SensMax SE outdoor people counting sensor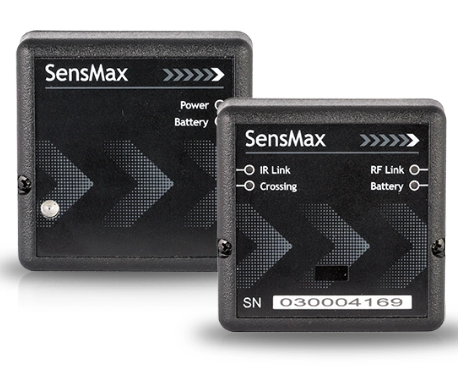 Operation principle:

Infrared beam crossing

Movement direction finding:

Unidirectional

Internal memory :

250 days of hourly data

Power supply:

AA batteries

Battery life:

2 years
SensMax SE outdoor people counting sensor for non-electricity areas. Unidirectional people counting. Battery life up to 2 years.
Price 265 EUR
Description of SensMax SE outdoor people counting sensor
Outdoor people counting sensor SensMax SE is a wireless device for tracking the number of pedestrians passing the sensor. There are special outdoor housings with IP-68 protection for this type of pedestrian counters, so you can use it for pedestrians counting in parks, recreational areas, and walking trails.
We recommend installing a pedestrian counting sensor on narrowest trail parts, as bridges, nearby growing trees, light pillars. If there are no objects for sensor installation, then you can use custom-made pillars from wood or metal.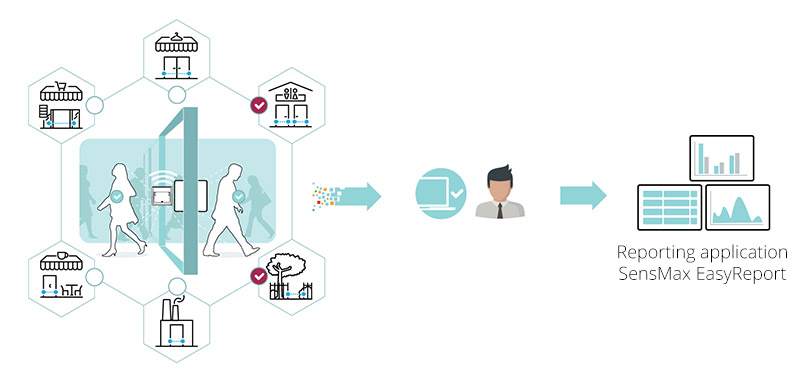 SensMax SE footfall counter works from standard AA batteries for up to 2 years. It storing footfall statistics into internal memory, which is enough to keep hourly visiting statistics over the past 250 days. You need to visit the sensor from time to time and download data from it using a manual data collector. Just aim the data collector to the footfall sensor from a distance of 1m and press the "Read" button. All footfall counter statistics will be transferred to it.
One footfall data collector SensMax SE/DE can serve up to 99 pcs outdoor people counting sensors. There is an option to download data to a local PC with SensMax EasyReport software installed by connecting a manual data collector via USB. All fresh data will automatically append historical numbers.
SensMax EasyReport software gives you a list of ready-to-use statistical and analytical reports per hour, day, week, month, and year.
Benefits of SensMax SE outdoor people counting sensor
Wireless setup – simple and easy wireless installation without any cabling works.
Internal memory – footfall counters keep 250 days of hourly footfall statistics.
Long battery life – infrared people counter operate on batteries for up to 2 years.
Autonomous operation – footfall counters work without any connection to IT infrastructure.
Outdoor design – dust and water protected cases made from industrial plastics.

Technical parameters of SensMax SE outdoor people counting sensor
| | |
| --- | --- |
| Application | Pedestrian counting, outdoor people coutning, people counting in parks, outdoor footfall counting for non-elecricity areas, footfall counting on walking trails, outdoor footfall counting |
| People counting technology | Infrared beam crossing |
| Movement tracking | Uni-directional |
| Internal memory | 250 days of hourly data |
| Connectivity range | IrDA, 1m |
| Case | Black ABS Plastic + additionally outdoor housing with IP-68 protection |
| GDPR/Privacy law | Anonymous people detection, 100% compliant, no filming |
| Counting accuracy | 95% 2m, >2m -1%/m |
| Passage width | Optimal 1m - 5m, maximum - 9m |
| Infrared ray angle | One beam, 6° |
| Fixture | Double-sided adhesive tape, plastic mounting bracket, screws |
| Data collection | |
| Power supply | AA batteries |
| Battery lifetime | Up to 2 years |
| Dimensions | 67x67x25mm |
This device appears in those solutions:
Get more possibilities for your business