Devices
SensGuard ENS210 wireless temperature and humidity sensor
SensGuard ENS210 wireless temperature and humidity sensor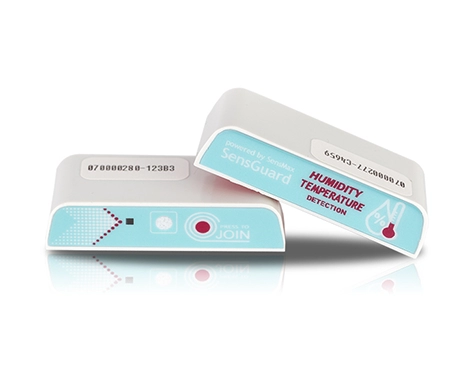 Parameters control range:

-20℃ ..+55℃, 0..100% RH

Measurement accuracy :

±0.5℃, ±3.5% RH

Measurement resolution :

0.1℃, 0.1% RH

Battery type :

Built-in Li-Ion non flammable IEC86-4 safety standard battery 400mAh non rechargeable

Battery life:

5 years
SensGuard ENS210 wireless temperature and humidity sensor for ranges of -20°C to +55°C, and 0-100% RH. Accuracy ±0.5℃ and 3.5% RH. Resolution 0.1℃ and 0.1% RH.
Temperature and humidity sensor
Wireless Temperature and humidity monitoring sensor SensGuard ENS210 is a device for remote temperature and humidity monitoring within the range of -20°C to +55°C and 0%-100% RH. SensGuard ENS210 wireless temperature and humidity sensor measurement accuracy is ±0.5℃ and 3.5% RH.
The sensor reads temperature and humidity information every five minutes and transmits the data to a gateway via a wireless data transfer protocol. WiFi connectivity range is up to 150m.
This wireless sensor has a waterproof case with IP65 protection. You can use it both indoor and outdoor.
Preset the desired temperature and humidity measurement range and receive notifications if the current temperature and humidity levels exceed the defined range.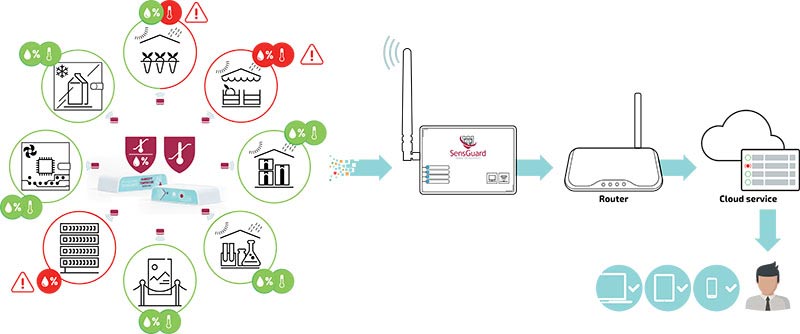 The data gateway collects temperature statistics from several wireless temperature and humidity sensors and forwards them to an online reporting application for processing various reports.
SensGuard ENS210 Wireless temperature and humidity sensors have a built-in battery of 5+ years lifetime.
There is an option to issue a compliance certificate from the accredited laboratory for each temperature and humidity sensor upon your request.

SensMax ENS210 Sensor Advantages
Wireless device – easy and straightforward WiFi installation without any special cabling works.
Online monitoring – online 24/7 access to controlled parameters.
All in One – this type of sensor combines temperature and humidity monitoring in one device.
Long range communication – wireless communication range up to 150 m.
Long battery life – built-in battery provide 5+ years non stop remote wireless sensor operation.
Waterproof – dust and water protected cases with IP65 protection level for indoor and outdoor use.

Applications

Food supermarkets
measure temperature and humidity levels inside freezing and cooling equipment and prevent food spoilage.

Commercial buildings
check temperature and humidity to avoid frozen pipes and frozen fire suppression systems.

Living houses
control temperature and humidity seasonal levels and to avoid frozen pipes or excessive heat.

Warehouses
control temperature and humidity parameters of products in the storage area.

Heating and ventilation systems
monitor HVAC equipment temperature and humidity, adjust workload and detect failures.

Museums and art galleries
protect sensitive art objects by controlling temperature and humidity levels towards them.

Greenhouses
control temperature and humidity levels at yields and maximize harvest from crops of the greenhouse.

Data centers and server rooms
monitor temperature and humidity parameters and prevent hardware failures.
SensGuard ENS210 Technical Details
| | |
| --- | --- |
| Application | Temperature and humidity monitoring, warehouse temperature and humidity monitoring, cold chain temperature and humidity monitoring, temperature and humidity control in premises |
| Parameters control range | -20℃ ..+55℃, 0..100% RH |
| Measurement accuracy | ±0.5℃, ±3.5% RH |
| Measurement resolution | 0.1℃, 01% RH |
| Measurement period | 5 minutes |
| Battery type | Built-in Li-Ion non flammable IEC86-4 safety standard battery 400mAh non rechargeable |
| Battery life | 5 years |
| Communication frequency | 868MHz |
| Communication range | Up to 150m |
| Data signal encryption | AES128 |
| Dimensions | 55x25x12mm |
| Fixture | Double-sided adhesive tape or mounting bracket |
This device appears in those solutions:
Get more possibilities for your business