Devices
Remote monitoring system data gateway SensMax SensGuard TCP LR X2
Remote monitoring system data gateway SensMax SensGuard TCP LR X2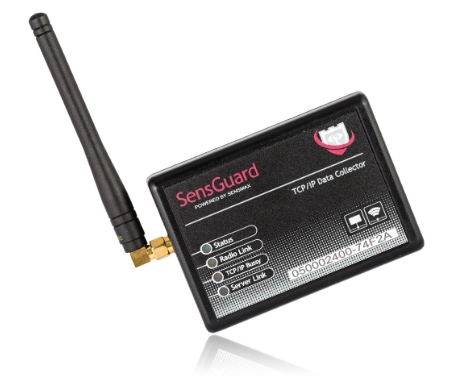 Range of communication:

up to 150m

Qty of serviced devices :

up to 200 sensors

Internal memory :

short term backup memory (5 sensors 18h, 200 sensors 0.5h)

Internet connection :

using LAN router
Remote monitoring system data gateway SensMax SensGuard TCP LR X2 for collecting information from wireless environment monitoring sensors. The data gateway accumulates statistics from wireless monitoring sensors and forwards it to online database using local LAN/Internet router.
SensMax SensGuard TCP LR X2 remote monitoring system gateway is a LAN-connected device that reads environment parameters from various types of sensors using wireless communication protocol. This remote monitoring gateway supports data collection from up to 200 sensors. Communication distance to wireless sensors is up to 150m. For complex premises, there is an option to use data repeaters to extend communication range up to 500m. It has a standard RJ45 port for connection to a local router and provides automatic data forwarding to the online reporting portal.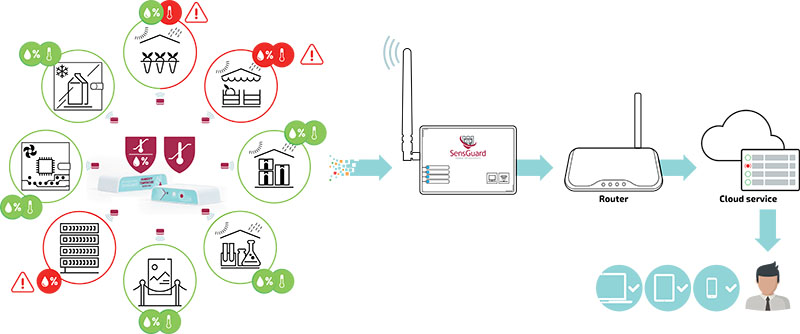 SensMax SensGuard TCP LR X2 remote monitoring system data gateway has internal memory for short time data backup. In case of any Internet connection problems, the data gateway will save records internally and will update online database automatically once connection restored. This data gateway can be powered using standard power adaptor or using Power over Ethernet connector. The data gateway has an internal watchdog to prevent the device from hanging up in case of any electricity failures. If there is a need to connect sensors out of connection range (150m), the data gateway can work as data retranslator for a master data gateway. Remote monitoring system gateway supports simultaneous data reading from different types of SensMax sensors: wireless temperature sensors, wireless temperature and humidity sensors, temperature sensors with a probe, and air quality VOC sensors.
Wireless device – simple installation without any cabling works.
Long range communication – wireless communication range is up to 150m.
Universal usage – supports data reading from various types of SensMax remote monitoring sensors.
Big capacity – supports data reading from up to 200 pcs of sensors within communication range.
Backup memory – built-in memory for short-term data backup in case of Internet connectivity failures.
Reliable device – built-in watchdog prevents hangups from electricity network failures.

Remote monitoring system gateway SensMax SensGuard TCP LR X2

Devices supported
all types of SensMax remote monitoring sensors
Communication ranges
up to 150m and up to 500m with signal repeaters
Communication frequency
868Mhz
Data signal encryption
AES128
Qty of serviced devices
up to 200 wireless sensors
Internal memory
short term shared backup memory (5 sensors 18h, 200 sensors 0.5h)
LAN connection
RJ45
Configuration port
USB
Power supply
AC adapter 5V or POE
Dimensions
90x66x28mm
Frame
АВS Plastic, black
This device appears in those solutions:
Get more possibilities for your business