Devices
SensGuard DS18B20 wireless temperature sensor
SensGuard DS18B20 wireless temperature sensor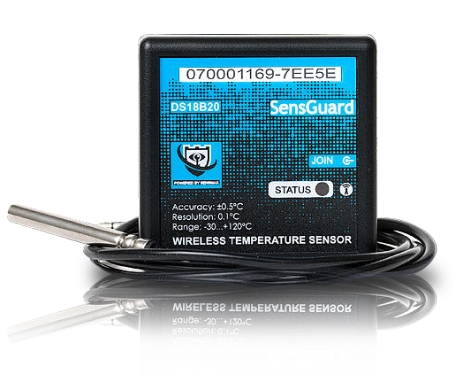 Temperature range:

-30℃ ..+120℃

Measurement accuracy :

±0.5℃

Measurement resolution :

0.1℃

Battery type :

2xAAA batteries, replaceable

Battery life:

5 years+

Temperature probe length:

1.5 m
SensGuard DS18B20 wireless temperature sensor with probe for temperature ranges of –30°C to +120°C. Accuracy ±0.5℃. Resolution 0.1℃.
SensGuard DS18B20 Temperature sensor with probe
Remote temperature sensor with probe SensGuard DS18B20 is a wireless sensor for temperature monitoring in a range of -30°C and up to +120°C. This temperature sensor is powered by standard AAA batteries for up to 5 years. The sensor measures temperature within ±0.5℃ high accuracy and 0.1℃ resolution.
It has a 1.5m long temperature probe that can be installed in hardly accessible places. Temperature readings are delivered to an online database every 5 minutes through LAN/Internet gateways. DS18B20 Wireless temperature sensor can connect the data gateway within a range of up to 150m.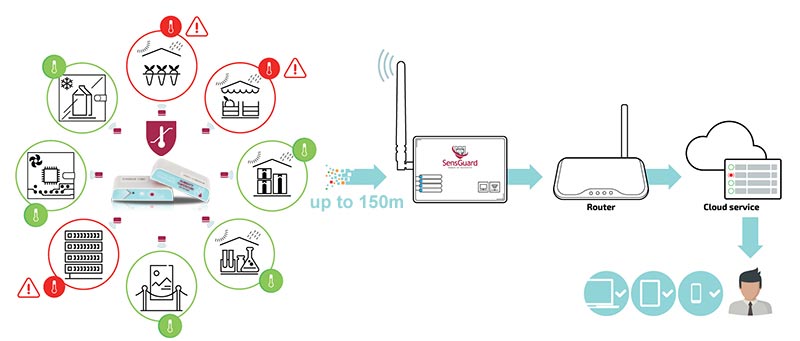 The LAN/Internet data gateway reads temperature metrics from up to 250 temperature sensors in the 150m range and forwards it to the online reporting portal SensWeb. You can check temperature statistics per each sensor or a sensor group, as well as full history about events and violations.
There is an option to set-up min/max temperature settings for every remote temperature sensor, as well as allowed violence time. This feature permits creating a flexible monitoring environment and the user will get the critical alarms only, avoiding spamming him by not essential and short-term events. You can find a detailed description of online temperature monitoring software here.
Applications

Wireless temperature monitoring
in freezing and cooling equipment to detect failures and prevent food spoilage in supermarkets.

Commercial properties and warehouses
remote temperature monitoring to avoid frozen pipes and frozen fire suppression systems.

Food storage warehouses
centralized temperature monitoring.

Wireless temperature transmitter
for heating and ventilation systems remote temperature monitoring.

Temperature system monitoring
for art galleries or museums.

Wireless temperature sensor
for greenhouse remote temperature monitoring.

Data center and server room
temperature monitoring.

Temperature sensor with probe advantages
Wireless setup – installation of battery-powered temperature sensor takes some seconds only.
Notifications – a user will get a notification about the violence of specific min/max temperature range controlled by the sensor.
Accurate measurement – a digital thermometer for remote temperature monitoring with accuracy ±0.5℃ and resolution 0.1℃.
Long battery life – remote temperature sensor works using two AAA batteries for 5+ years.
Temperature probe – 1.5m long temperature probe allows measuring temperature in hardly accessible spots.

SensGuard DS18B20 Technical Details
| | |
| --- | --- |
| Application | Temperature measurement in freezers, temperature monitorin in HVAC, deep freezing temperature tracking, temperature sensor with probe for liquids, heat monitoring |
| Temperature range | -30℃ ..+120℃ |
| Temperature probe length | 1.5 m |
| Measurement accuracy | ±0.5℃ |
| Measurement resolution | 0.1℃ |
| Measurement period | 5 minutes |
| Battery type | 2xAAA |
| Battery life | 5 years |
| Communication frequency | 868MHz |
| Communication range | Up to 150m |
| Data signal encryption | AES128 |
| Dimensions | 67x67x25mm |
| Fixture | Double-sided adhesive tape or mounting bracket |
This device appears in those solutions:
Get more possibilities for your business