Devices
Real-time wireless bidirectional people counters SensMax Pro D3 SuperLongRange TS
Real-time wireless bidirectional people counters SensMax Pro D3 SuperLongRange TS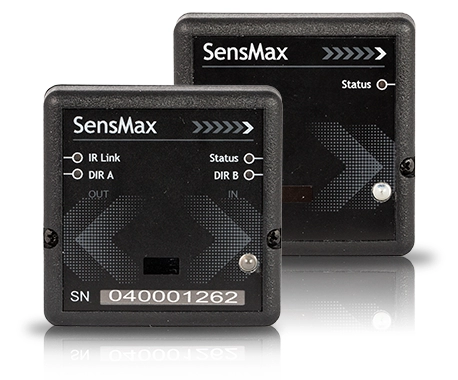 Operation principle:

infrared beam crossing

Movement direction finding:

two directions IN and OUT

Internal memory :

1000 records

Measurement period :

5-minutes time spans in graphic reports, 1-second time span exporting data in raw format

Battery life:

up to 1 year

Communication range:

up to 800m

Additional feature:

immediate real-time data delivery to a server
Wireless people counting sensors with real-time data delivery to a server. This sensor type can detect visitor movement direction IN and OUT. Statistical data are displaying in graphical reports per 5-minute time spans and 1-second data in raw format. Real-time SuperLongRange people counting sensor can connect a data gateway in range of 800m.
Real-time people counter SensMax Pro D3 SuperLongRange TS is a wireless sensor for people counting projects with real-time reporting needed. This sensor model has a powerful radio module for connection to a data gateway in up to 800m range. Real-time people counting sensor uses bi-directional counting algorithm for detecting visitor movement direction IN or OUT. Wireless people counting sensors deliver statistical data to a central database in the real-time mode so that you can follow up premises occupation by visitors in a live manner. For your convenience, you can get graphic reports per 5-minutes time spans and per 1-second detailed statistics in a raw data format which you can get from SensWeb cloud reporting portal using API or exporting from SensMax EasyReport application in XML, CSV or MYSQL data formats. SensMax Pro D3 SuperLongRange TS real-time people counters designed for counting people in complex premises like big office buildings and shopping malls.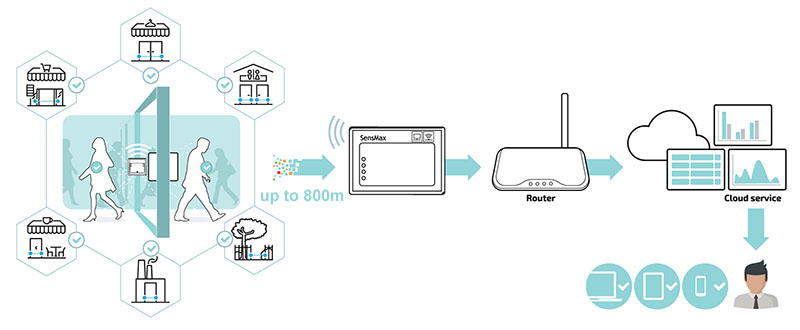 SensMax Pro D3 SuperLongRange TS is a battery powered wireless people counting sensor. It works from standard batteries for up to 1 year. The sensor has built-in memory for backup 1000 records. Real-time people counting sensor uses a data gateway for delivering statistics to the central database. It can be LAN/Internet or 3G/Mobile internet SensMax data gateway. You can process the data in various ready-to-use reports at online reporting portal or install software infrastructures on your servers. You are welcome to check both reporting solution benefits here.

Real-time people counting – wireless people counter updates a central database in real-time mode.

Movement direction detection – real-time people counter use bidirectional counting algorithm for detecting incoming and outgoing visitors.

Wireless setup – installation of wireless real-time people counting sensors is fast and straightforward.

Internal memory – bidirectional real-time people counting sensor has internal memory for backup 2000 visitor records.

Advanced reporting – ready to use reports using 5-minutes time spans and per 1-second statistics in raw data format.

SensMax Pro D3 SuperLongRange TS real-time people counting sensor
Operation principle
Infrared beam crossing
Movement direction finding
Bi-directional
Internal memory
1000 records
Communication range
Up to 800 m
Radio module frequency
868 MHz
Enclosure
Black or white ABS Plastic
Power supply
AA batteries
Battery lifetime
Up to 1 year
Data collection

Real-time data gateway SensMax TCPIP SLR TS

Real-time data gateway SensMax 3G SLR TS

Dimensions
67x67x25mm
Counting accuracy
95% 2m, >2m -1%/m
Passage width
Optimal 1m - 5m, maximum - 9m
Infrared ray angle
Three beams, 6°
Fixture
Double-sided adhesive tape or mounting bracket
Tamper protection
Sound alarm and report into software
This device appears in those solutions:
Get more possibilities for your business