People counting in meeting rooms
People counters for conference rooms is a useful tool for office space management. People counting system shows premises utilization and occupation trends, such as how many people occupied the room, how often, and at what time. Facility managers can use these statistics to track if meeting rooms used efficiently.
Wireless installation
Door counters for conference rooms are wireless devices, and installation does not require any cabling works and electricity connection.
Long battery life
Wireless people counting sensors working on batteries for up to 1 year.
Data export
People counting system supports data export raw data format for implementing statistics into 3rd party reporting applications.
Wireless communication
Data gateway can read statistics from visitors counters for meeting rooms in a range up to 800m.
Timestamp feature
Visitors statistics provided per 5-minute time spans or in per-second statistics in a raw data format that helps to calculate certain occupancy trends for premises.
Description of people counters for conference rooms
People counting sensors for meeting rooms help to track office space occupancy statistics and trends for facilities utilization efficiency analysis. Occupancy statistics from people counters used for office space daily management to check how many people using meeting rooms, how often, and at what time. It helps to find the best fit conference room allocation for a particular group of visitors, as well as predict visiting trends in the future.
Meeting room utilization analysis used for office space rationalization, meeting room utilization improvements, and further office development decisions. Wireless people counting sensors make system installation fast and straightforward, as well as it is friendly to office design and does not require any cabling works or any special mounting procedures.
We have developed real-time people counting sensors SensMax D3 Timestamp and SensMax TAC-B for companies that create office space management solutions. This type of people counting sensors designed to gather premises visiting statistics and record each visitor movement direction with a timestamp. It gives the opportunity to create detailed reports about meeting room occupation per each second.
People counting sensors delivering data to the server using LAN/Internet or WiFi Internet connection. The system collects visiting statistics and updates the database in the real-time mode. There is an option to export data from SensMax cloud reporting system via API. It is useful feature if you need to combine people counting data with a building management system.

For this solution you can use several device combinations
Real-time bidirectional mmWave sensors
Real-time bidirectional infrared sensors
How visitor counting system for meeting rooms works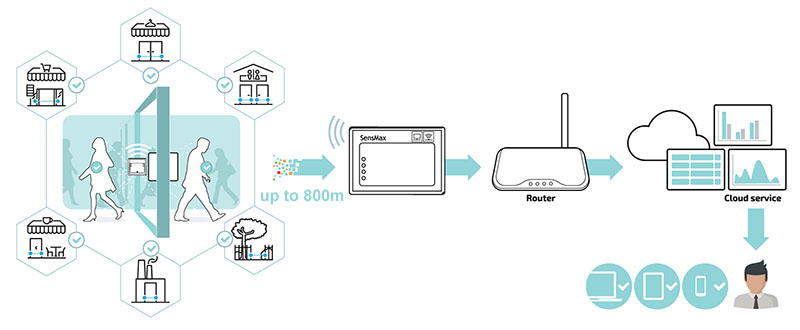 Wireless people counting sensors for conference rooms delivering statistics to a central server in a real-time mode. Visitors counting sensors can detect visitor movement direction IN or OUT. It gives an opportunity to discover the actual occupation of meeting rooms. Wireless people counters are battery-powered devices that work from standard AA batteries for up to 1 year. The real-time data gateway reads statistics from up to 30pcs visitor counting sensors in a range of up to 800m and uploads it to the server via LAN/Internet (SensMax D3 TS sensors) or WiFi Internet connection (SensMax D3 TS and SensMax TAC-B sensors).
People counting software options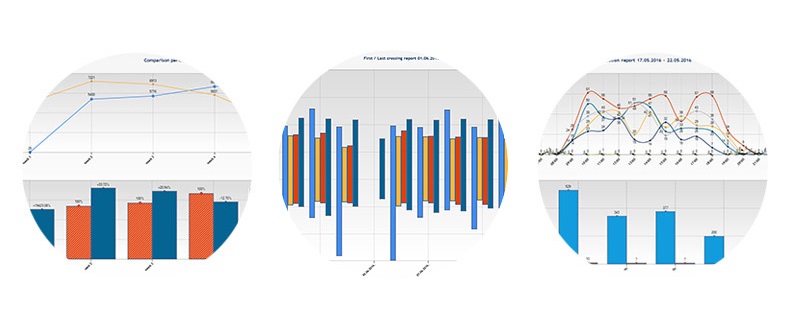 Statistical data from real-time visitor counters displayed in statistical, analytical and administrative reports per 5-minute time spans. There is an option to view reports in the cloud reporting portal or install reporting software on a local server. Local software installation has the option to export per-second statistics in PostgreSQL database for integration in 3rd party office management software. Cloud reporting portal has the option to export data via API. Reporting software displays visiting trends and occupancy statistics of conference rooms that are useful for optimization of utilization of office space.
SensMax devices
Hardware included in this solution