People counting system for shopping malls and smart buildings
People counting solution will help you to detect visiting trends, count people per mall zones and floors, identify how many visitors are in particular areas of the building in real-time mode, as well as to check occupation history in 5 minute time spans or per-second if raw data export used.
Timestamp feature
Visitors statistics provided per 5-minute time spans or in per-second statistics in a raw data format that helps to calculate certain occupancy trends for premises.
Wireless devices
Save time and money by installing wireless people counting sensors that don't need any cabling works.
Directional count
Unidirectional and bidirectional people counting algorithms for your needs.
Ready to use reports
More than 20 statistical, analytical and financial reports sorted by hour, day, week, month, quarter and year.
Data export
People counting system supports data export raw data format for implementing statistics into 3rd party reporting applications.
Description of people counting solution for shopping malls and smart buildings
People counting solution helps you to plan staff and security personnel schedules according to visiting trends. SensMax people counting solution helps to get the full picture of people traffic across the building per different floors. It gives you the opportunity for shopping malls toplan rent costs according to people traffic intensity in different zones or floors, to track people responsiveness to your marketing activities and pick-up the most effective marketing channels. Smart buildings can adjust lighting, heating, ventilation according to visiting trends in premises to reduce electricity costs.
SensMax people counting sensors able to detect visitor movement direction IN or OUT in real-time mode. The sensors are wireless devices so that you can install them without any cabling works. Visitors statistics from wireless people counters delivered to a central server using LAN/Internet or WiFi internet gateways in real-time mode. You can check people traffic statistics in various statistical and analytical reports within 5 minutes time spans. There is an option to export per-second data from the SensMax system to any 3rd party reporting tool using API data export.

For this solution you can use several device combinations.
How real-time people counting system works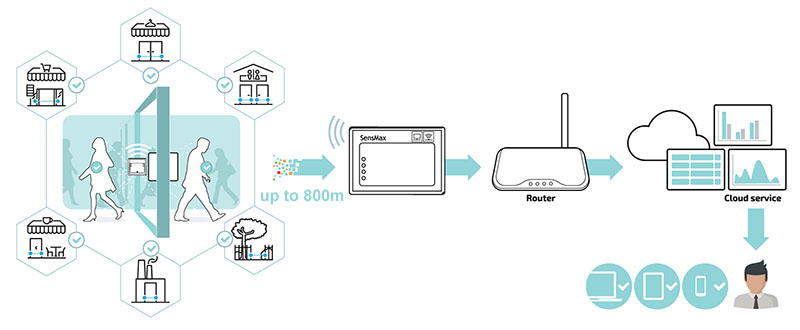 The wireless sensors counting people and delivering statistics to a central server in a real-time mode. Wireless people counting sensors detect visitor movement direction IN or OUT. It gives an opportunity to discover occupation of premises per floors or zones. People counters are battery-powered devices that work from standard AA batteries for up to 1 year.
There are two types of people counting devices and data gateways for connectivity range of 150m and 800m. The real-time data gateway collects statistical information from up to 30 people counting sensors and sends it to the server via LAN Internet or WiFi Internet connection. The gateway has a short-term backup memory for 2000 readings that shared among people counting sensors.
Reporting software features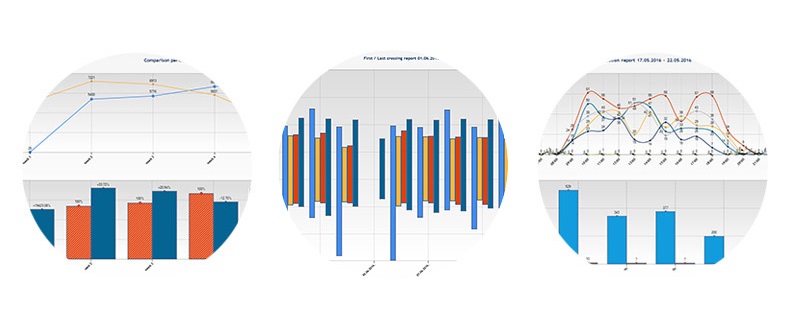 Statistical data from real-time people counters processed in statistical, analytical and administrative reports per 5-minute time spans. There is an option to check reports in the cloud reporting portal or install software on a local server. The reporting software supports a multi-user environment with options to set up access rights and time zones for every user. Local software installation allows exporting raw per-second data in SQL database for integration in 3rd party reporting tools.
The Cloud reporting portal allows exporting data using API and can send email notifications when the number of visitors reached a specified amount. Reporting software allows you to find visiting trends and occupancy statistics of premises per floor or zones that are useful for optimization of building usage concerning heating and ventilation or rental costs. Real-time people counting system allows monitoring occupancy in premises. You can set up automated reports with customized text messages to display them on any internet-connected TV screen, Tablet PC, or mobile phone. Read about real-time occupancy monitoring on-premises.
SensMax devices
Hardware included in this solution