Devices
SensMax TAC-B 3D-WP outdoor people counting radar
SensMax TAC-B 3D-WP outdoor people counting radar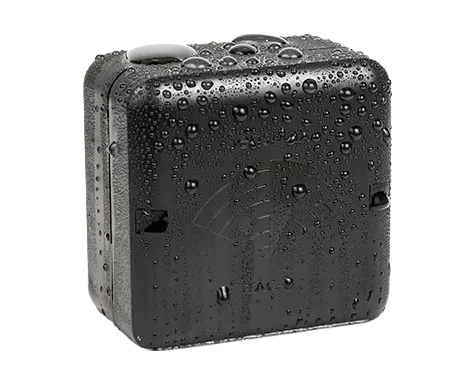 Operation principle:

mmWave 60GHz radar

Internet connection :

WiFi 2.4 GHz/WPA2-PSK/WPA2-ENTERPRISE

Control zone:

Up to 100m² area, 10m wide pathways, 120° viewing angle

Qty of control points:

Up to 5 user-defined counting lines and zones

GDPR/Privacy law:

Anonymous people detection, 100% compliant, no filming

Enclosure :

ABS plastic, IP65 protection
Outdoor radar sensor for real-time people counting. The sensor works in any light and weather conditions. It can count both pedestrians and cyclists in areas of up to 100 square meters using multiple counting lines and zones.
Outdoor People Counting Radar For Pedestrians and Cyclists
SensMax TAC-B 3D-WP outdoor people counting sensor is designed for smart pedestrians counting on city streets, walking trails, in parks, and in any other outdoor environment. The outdoor people counting sensor has a waterproof/dustproof case and can work in any light conditions such as bright sun, evening shadows, even during nighttime without any light, as well as in any weather conditions - fog, rain, smoke, or snow. SensMax TAC-B 3D-WP outdoor people counter controls up to 10m wide pathways and up to 100m2 area where it is possible to define up to 5 counting lines or zones. The sensor works in real-time and can detect movement direction and movement speed.
You can use it for people counting statistics, as well as detecting the number of them in a counting zone in real-time. Mounting the outdoor people counting radar is fast and easy. It is possible to install the sensor on any pillar, a traffic light, or a sidewall. The sensor has a robust case and does not require any cleaning. Advanced mmWave radar technology is working without filming people, so it is 100% compliant with GDPR/Privacy law requirements.
Many customers around the World recognize SensMax TAC-B 3D-WP outdoor people counting sensor as probably the best choice for outdoor people counting projects. The sensor has advanced fine-tuning settings for improved people counting accuracy according to people traffic intensity, installation height, pathway width, and objects movement speed. So you can use it at bus stops, on city streets, at parks, and any other outdoor facilities.
SensMax TAC-B 3D-WP sensor works in real-time and delivers people counting statistics to an online reporting portal with many ready-to-use reports. It can use any WiFi internet connection - open WiFi network, password-protected WiFi, hidden WiFi, and Enterprise WiFi. The cloud reporting portal supports API data export. Additionally, it is possible to read the data directly from the sensor using the MQTT protocol. It gives flexible options on how to integrate outdoor people counting data with any 3rd party reporting platform without connecting devices to the SensMax cloud.
Telegram messenger API support allows getting notifications from the sensor directly to a mobile phone in real-time mode.
SensMax TAC-B 3D-WP supports webhooks provided by IFTTT and Shelly services. Webhooks allow the outdoor sensor to send commands to different devices or send data to different services. So it is possible to build advanced automation scenarios according to people counting statistics or the number of people in an area. Feel free to request a demo product for your project.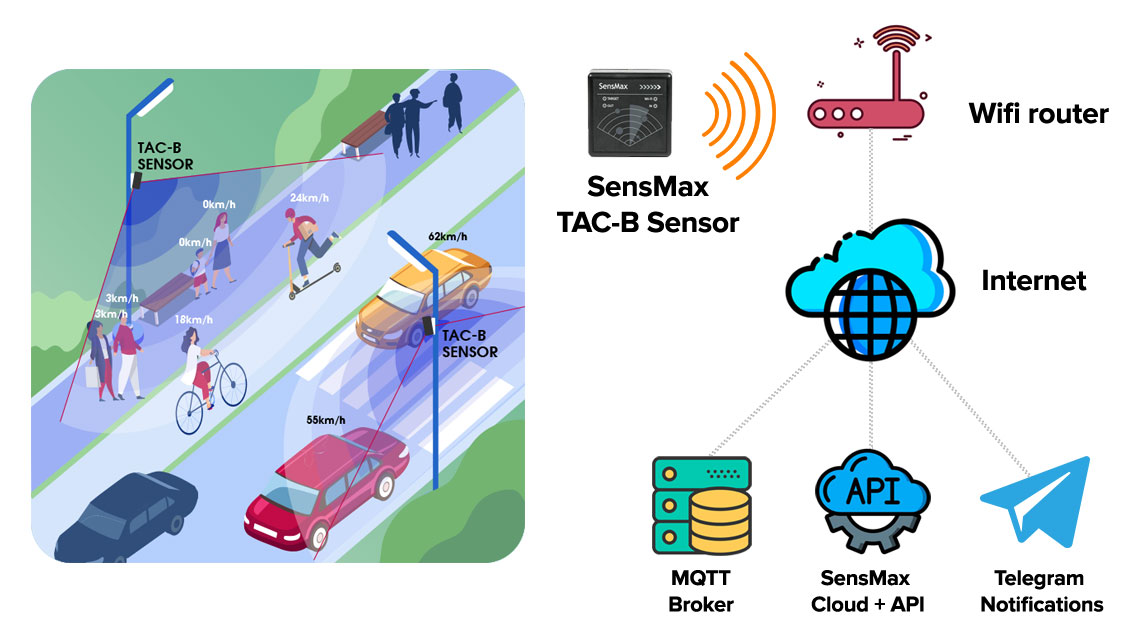 Applications of SensMax TAC-B 3D-WP outdoor people counting radar sensor
| | |
| --- | --- |
| | Outdoor people counting in parks, walking trails, and pedestrian and cyclists counting on city streets for tracking the number of people using particular routes. It helps in planning cleaning and maintenance schedules, understanding the popularity of events, and proving necessary funding amounts. The sensor can be placed in a robust plastic box and a power bank for temporary installation at outdoor events. It stores data into internal memory or can deliver it online in real-time mode using any WiFi hotspot, i.e., shared internet connection from a mobile phone or GSM modem. |
| | Queue management for outdoor projects helping to maintain high quality and fast service for customers. It helps track social distance, the density of people traffic, queue detection, occupancy management per zone at any location. Easy installation and privacy-compliant people detection without filming makes the sensor one of the best choices for queue management. |
SensMax TAC-B 3D-WP Technical Details
| | |
| --- | --- |
| Application | Outdoor people counting, City street people counting, Pedestrians counting, Bicycles counting, Queue management, People counting in parks |
| People counting technology | Advanced mmWave radar technology 60Ghz |
| People counting options | Up to 5 user-defined counting lines and zones |
| Occupancy monitoring | Per sensor zone, per group of sensors |
| Installation options | Sidewall mounting at height 2-2.5m |
| Case | ABS plastic, IP67 protection |
| Counting accuracy | Up to 99% detection of one person per 1 m2, and >93% for crowded areas with 3 persons per 1 m2 |
| Detecting area | 10m range, 120° viewing angle (100m2) |
| GDPR/Privacy law | Anonymous people detection, 100% compliant, no filming |
| Notifications & Reporting | Telegram messenger API support, MQTT protocol support, Email notifications, and online reporting if the sensor connected to my.sensmax.eu cloud reporting system |
| Internet connection | WiFi 2.4 GHz/WPA2-PSK/WPA2-ENTERPRISE |
| Storage & Backup | Micro SD card 16GB |
| Power | 12VDC/0.5A |
| Dimensions | 80x80x35 mm |
---
This device appears in those solutions:
Get more possibilities for your business