Parks | People counting in parks
The people counting radar fits most of all outdoor pedestrian counting projects. People counting area is up to 100 square meters at an angle of 120 degrees. It is a benefit for footfall counting at wide entrances or even open space. The sensor working in any light conditions, even in dark, fog, and rain. Sidewall or pillar mounting inside a robust plastic box allows flexible installation options.
Advanced technology
TAC-B sensor benefits form using the newest mmWave technology for people counting.
Multiple counting lines
The sensor supports bi-directional people counting within multiple lines and zones.
Privacy compliant
The sensor is 100% GDPR/Privacy law compliant and detects people without filming them.
WiFi device
The sensor delivers information to a server using WiFi connection in real-time.
Wide detection area
The sensor has a 100m2 people counting area tracking up to 10m range at 120° viewing angle.
SensMax TAC-B people counting radar sensors helping to collect footfall statistics at parks and recreational areas. Knowing visiting trends and statistics helps to evaluate the popularity of the location, track advertising effectiveness, schedule maintenance works, and get information for additional funding requests.
The sensor has an option to detect movement direction and speed. So it is possible to count pedestrians and cyclists separately. For example, normal human walking speed is about 5 km/h, jogging speed is about 12km/h, average bicycle speed is 15-20km/h. You can see separate reports for every visitor type, as well as the summary for all visitors.
SensMax TAC-B people counting radar sensors based on the newest mmWave technology for outdoor footfall tracking that has additional benefits compared to standard people counting systems:
The sensor detecting people at a wide area up to 6m range at 120° viewing angle in high resolution (approx. 100m2).
Sidewall or pillar mounting inside a robust plastic box offers more advanced installation options.
Internal backup memory on an SD card is enough to save data for thousands of days.
The sensor has multiple counting lines and zones with movement direction detection.
It is 100% compliant with GDPR/Privacy law as the sensor detecting people without filming.
The sensor using a standard WiFi internet connection for visiting statistics delivery to a server. It can be a permanent connection or a temporary one, for example from a mobile phone shared WiFi hot-spot.
SensMax TAC-B radar people counting sensor installation should be at least at 2.5-3m height. You can stick the sensor box to a sidewall or a pillar. It has a special bracket with adjustable angles for accurate aiming to a people counting area. You can power the footfall sensor from a standard electricity connection or a solar panel. In case of no WiFi internet connectivity on-site, you can add any standard WiFi GSM modem for data delivery to the server via a mobile internet connection.
For temporary installation, there is an option to connect SensMax MiniUPS Powerbank that keeps the device running up to 7 hours. You can log in directly to the outdoor people counting sensor from your mobile phone to see real-time statistics or share an internet connection for data delivery online.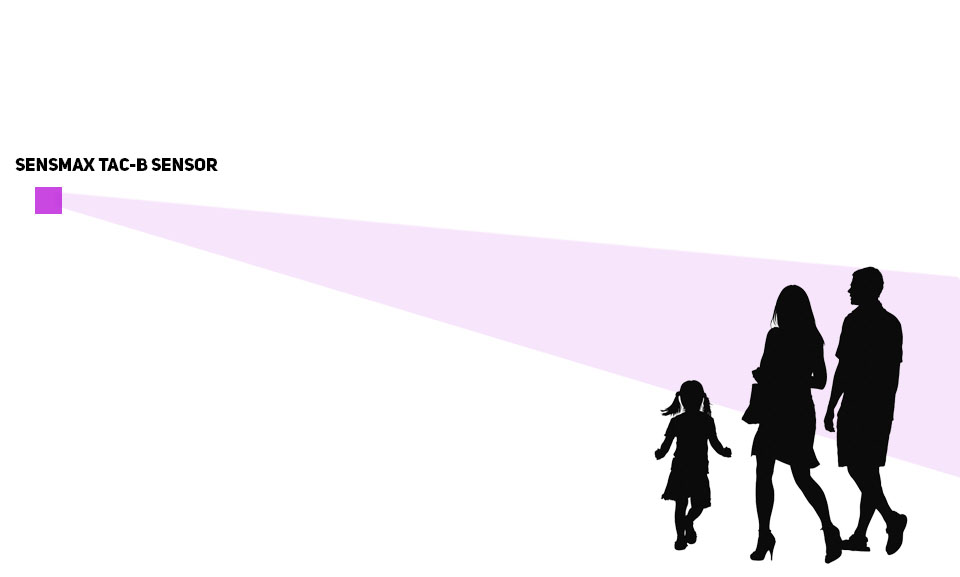 SensMax TAC-B people counting radar sensors support up to 5 counting lines and zones, so you can use one sensor for counting people at several entrances at the same time, as well as tracking occupancy and average dwelling time per multiple zones. For example how many pedestrians passed a gate and what time they spend sitting on a bench or towards an art object. The most important feature for outdoor people counting is that the sensor can work in any weather conditions – rain, fog, snow, in daytime and nighttime.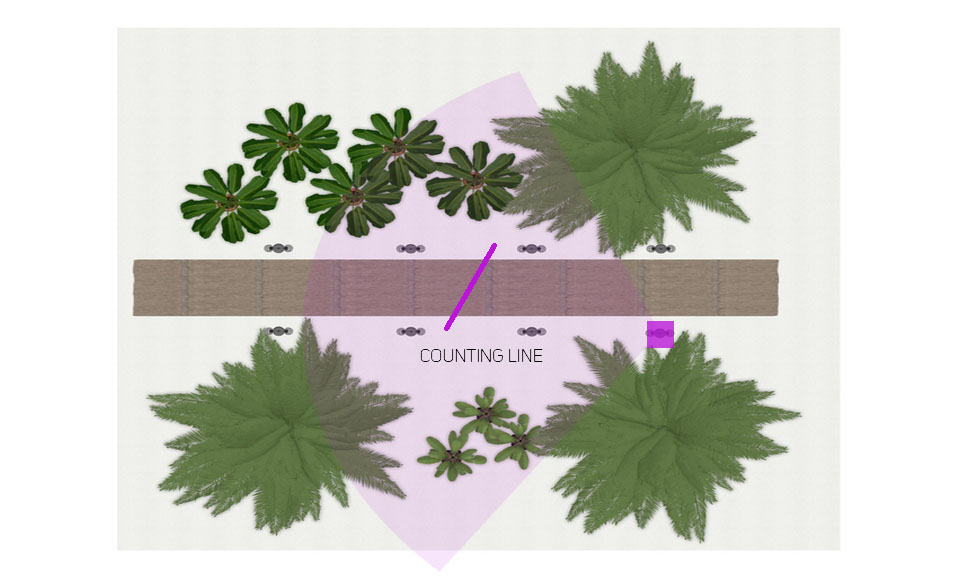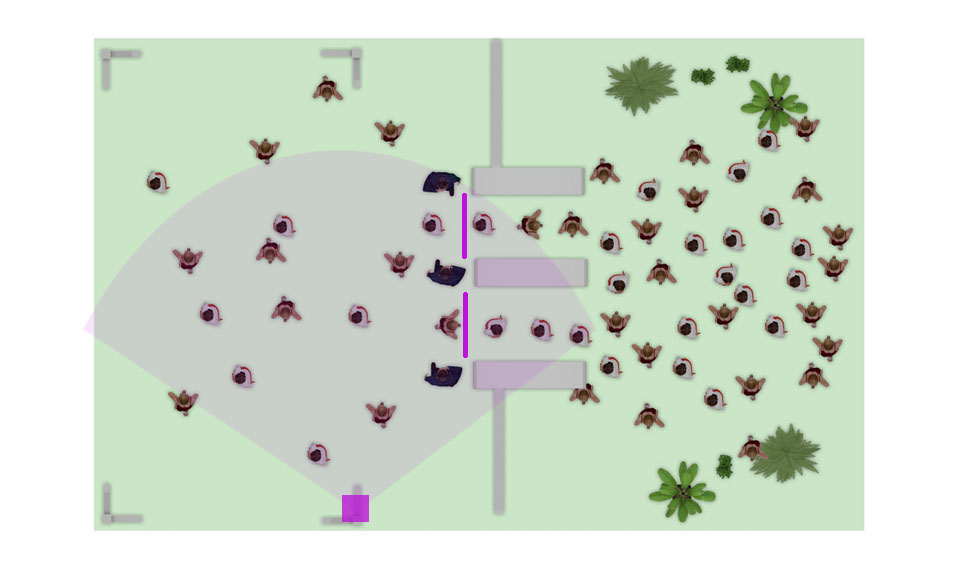 You can see pedestrian and bicycle visitor statistics at the SensMax cloud reporting portal in various graphical reports for every sensor separately or combine information from a group of sensors. There are options on how to schedule automated reports forwarding to email addresses or receive real-time notifications via Telegram messenger. For advanced projects, the sensor supports MQTT protocol for direct data reading from the sensor or API data export from the SensMax cloud platform.

Download PDF documents
SensMax devices
Hardware included in this solution