Devices
SensGuard RC1 remote control key chain
SensGuard RC1 remote control key chain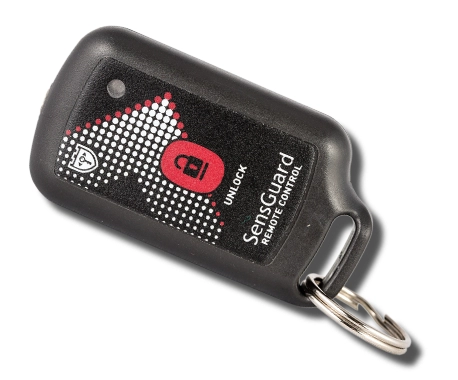 Range of communication:

Up to 150m

Signal encryption:

AES-128

Battery life:

Up to 5 years

Qty of control zones:

Managing up to 10 alarm zones
SensGuard RC1 remote control key chain for wireless alarm sensors management.
Wireless alarm system control key chain
SensMax SensGuard RC1 wireless alarm systemcontrol key-chainis a part of the entire security system. It is used for silent arming and disarming of wireless alarm sensors. Alarm system control key-chain is useful for locations where it is needed to remotely arme and disarm alarm sensors many times per day, like a retail store, jewelry store, or mobile telephones store.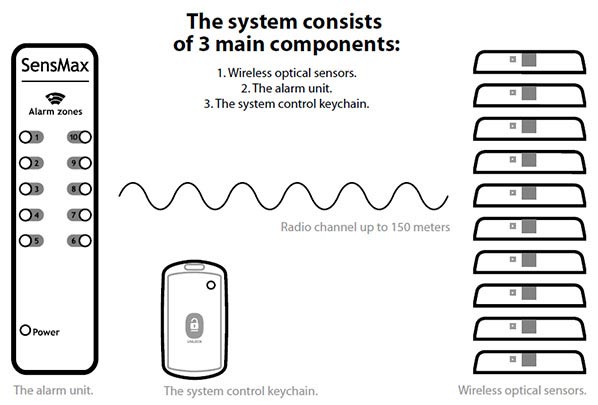 SensMax SensGuard RC1 alarm system control key chain is a wireless device powered by a battery with up to 5 years lifetime. To unlock the wireless alarm sensor you need to press the button, and alarm sensors will be disarmed for a short period to open the show window or move the secured object. All other sensors will be armed back automatically. The communication range is up to 150m.
Wireless alarm system supports up to 10 controlling zones, and each zone can contain up to 20 sensors. You can add individual control key chain to every control zone and configure one master key-chain for all zones.
SensGuard RC1 remote control key chain technical details
Application

Retail alarm system, theft protection, art object alarm, art object protection, wireless alarm system, window alarm, window opening alarm, door opening alarm, theft alarm, retal store protection from thefts, art gallery alarm, painting protection from movement

Devices supported

SensMax SensGuard VCNL4010 wireless alarm sensor

SensMax SensGuard X1 security alarm collector

Range of communication
Up to 150m
Radio signal frequency
868MHz
Signal encryption
AES-128
Power supply
Built-in Li-Ion non flammable IEC86-4 safety standard battery 400mAh non rechargeable
Battery life
Up to 5 years
Qty of control zones
10 zones
Dimensions
65x35x17mm
This device appears in those solutions:
Get more possibilities for your business