Wireless alarm system for art object protection
Museum security system SensGuard designed for museums and art galleries to protect art objects from unauthorized movement. The wireless alarm system has a small size and elegant looking wireless alarm sensors that are elementary to install without any mounting and cabling works. Unauthorized movement of the protected object will cause alarm.
Optometric protection
Sensors using innovative optometric object protection technology that works within a distance of 2-3cm from an object.
Long battery life
Wireless security sensors have a built-in battery for 5 years 24/7 operation.
Advanced alarm
Alarm zone indication by light and 90dB loud alarm signal at the alarm collector.
Long range communication
Alarm collector controls up to 200 sensors in a range of up to 150m.
Quick & Easy setup
Wireless plug and play device that is quick and easy to install in a few minutes.
Description of the wireless alarm system
SensMax SensGuard museum security system for art object protection consists of wireless alarm sensors, security alarm collector and security system control key-chain to arm or disarm security sensors. Comparing to standard magnetic sensors that consist of two parts - magnet and sensor, SensMax security sensor is the standalone device.
So you can protect a painting or any other object by installing the sensor behind it or towards it. Wireless alarm sensors use innovative optometric object control technology. The sensors work at a distance of 2-3 cm from an object. It makes installation very convenient and comfortable.

Battery life for wireless security sensors is 5+ years so you can be sure that it will work for a long time for regular or temporary installation. Any movement of object or sensor itself will cause 90dB loud sound alarm at alarm collector, as well as you will see a light indication of alarm zone at the collector. It can control up to 200 sensors in 10 zones in the range of 150 m. Remote control key-chain used to enable or disable the alarm.
You can set up access levels per each key-chain and alarm zone. The key-chain disable the alarm for the dedicated area. After pressing the disable button you can move one object, all other security sensors will be armed automatically.The security system communication channel is encrypted using AES-128 level encryption, so it is protected from interference by 3rd party electronic devices.
How it works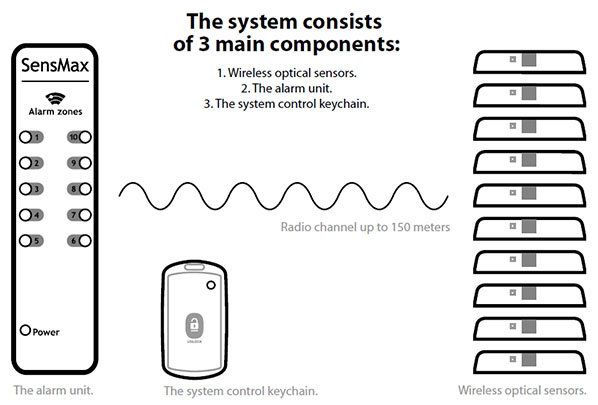 SensMax devices
Hardware included in this solution