Wireless alarm system for show windows
Retail store security system is designed for inventory protection in show windows. Small and elegant looking wireless security sensors have extra-long battery life up to 5 years. Retail security system informs retail store staff about unauthorized show window opening using 90dB loud sound alarm.
Wireless alarm sensors
Small size wireless alarm sensors are easy to install at show windows to protect them from unauthorized opening.
Loud alarm
Loud alarm signal of 90dB and the light indication of alarm zone light indication feature.
Signal encryption
Encrypted AES-128 radio channel for communication with wireless security alarm sensors.
Long range communication
Alarm collector controls up to 200 sensors in a range of up to 150m.
Longest battery life
Wireless alarm sensors battery life is up to 5 years.
Retail store security system description
Retail store security system helps to prevent stealing luxury goods like mobile phones, expensive alcohol, or jewelry out of show windows. Small and elegant wireless sensors with long battery life are easy to install. Any sensor movement or protected object movement will cause alarm at the staff work desk. For easy daily usage, there is a remote management keychain that allows arm/disarm sensors quietly. The sensors protected from any third-party magnetic or lightning impact.
SensMax retail alarm system designed for the daily protection of show windows from unauthorized opening. Wireless security sensors using innovative optometric protection technology. Comparing to standard magnetic sensors that consist of two parts - magnet and sensor, SensMax security sensor is the standalone device. So you can protect showcase door or show window, as well as an independent object.

Innovative technology allows keeping sensors working for 5 years without battery replacement. It gives you the opportunity to protect your retail stores for an extended period without the risk of system malfunction because of short battery life as it usually happens with cheap retail security solutions. Your staff will be informed about any unauthorized movement of the protected object or sensor itself using a loud 90dB alarm, as well as with light indication of alarm zone. Security sensors connectivity range to the alarm collector is up to 150m.
Wireless keychain used for retail alarm system management. Advanced protection modeallows to disarm sensors and open one show window. All other sensors will be armed automatically once one show window opened. It makes SensMax retail security system convenient for luxury goods protection.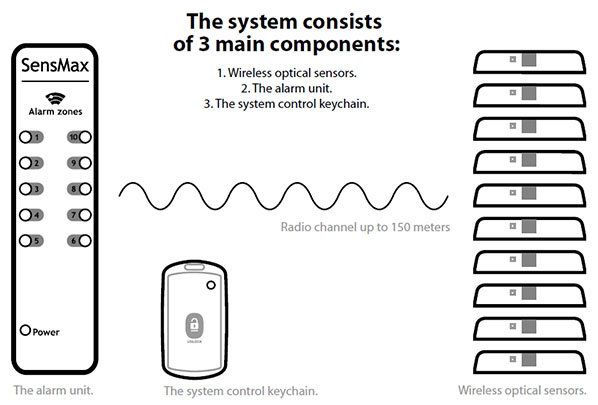 SensMax devices
Hardware included in this solution