Devices
Data collector for outdoor people counters SensMax SE/DE
Data collector for outdoor people counters SensMax SE/DE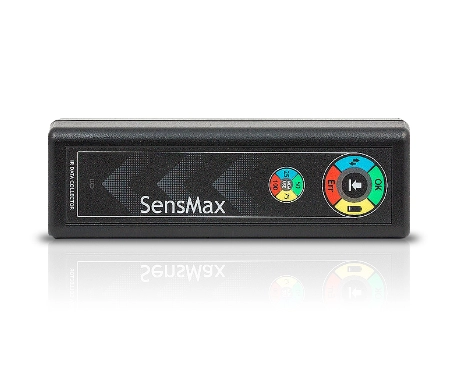 Internal memory :

2000 days of hourly data

Qty of serviced devices :

up to 99 people counting sensors

Battery life:

up to 30 days
SensMax SE/DE data collector for outdoor electronic people counter sensors. The footfall data collector has a wireless infrared port for data downloading from the electronic people counters and USB port for data export to a PC. This footfall data collector is recommended to use for footfall counting systems where there are no options to connect to any local IT infrastructure or no electricity connectivity.
Manual footfall data collector SensMax SE/DE reads data from electronic people counters using an infrared connection. You need to aim the data collector to the electronic people counter from a short distance and press read button. Data from wireless footfall counting sensor stored into internal memory that is enough for saving up to 2000 days of hourly statistics from all served sensors.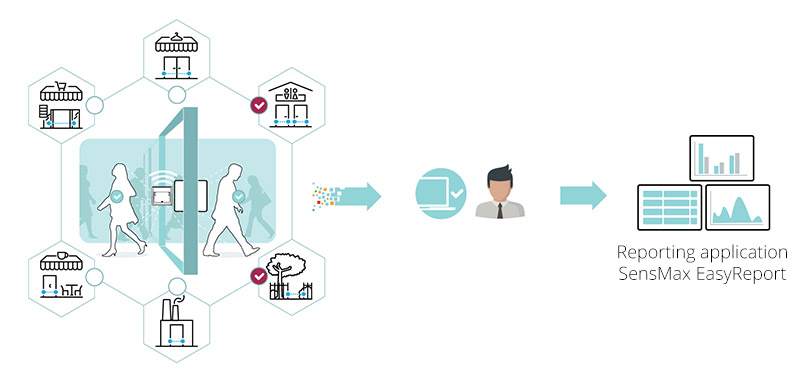 Manual data collector SensMax SE/DE supports data reading from up to 99 sensors. It has the built-in battery for 30 days operation. You can charge an internal battery by connecting the data collector to any USB port. To download statistics from the data collector, please connect it to any PC with preinstalled people counting software SensMax EasyReport. You are welcome to check people counting software features here.


Mobile device – independent from connection to any IT infrastructure or electricity.

Internal memory – keeps 2000 days of hourly statistics from people counting sensors.

Long battery life – has built-in accumulator that is enough for 30 days operation.

Easy to use – plug and play device with wireless data reading from sensors and USB port connection for data export.
SensMax SE/DE manual data collector
Devices supported
Communication range
up to 1m infrared connection
Qty of serviced devices
up to 99 people counting sensors
Internal memory
2000 days of hourly data
PC connection
USB
Power supply
Built-in accumulator
Battery life
up to 30 days
Dimensions
110x25x25mm
Frame
АВS Plastic, black