Devices
Outdoor wireless people counting bidirectional sensor SensMax DE
Outdoor wireless people counting bidirectional sensor SensMax DE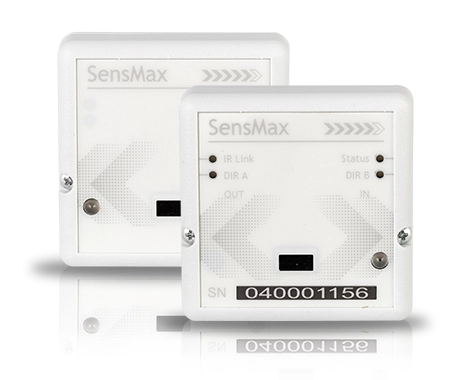 Operation principle:

Infrared beam crossing

Movement direction finding:

Bi-directional

Internal memory :

150 days of hourly data

Power supply:

AA batteries

Battery life:

up to 1 year
Infrared beam people counter SensMax DE for people counting with their movement direction detection for areas without electricity and internet connectivity. We recommend using bidirectional beam counters SensMax DE for counting people in parks, walking trails, public toilets, and any other outdoor location.
Outdoor infrared beam counters SensMax DE uses three infrared rays to detect movement direction of a visitor. Beam counters work from standard batteries up to 1 year. These sensors are useful for visitor counting if you do not have any electricity and internet connectivity at the location. Beam counters SensMax DE are fully autonomous and using internal memory to store hourly attendance statistics over the past 150 days. SensMax DE beam counters are wireless and easy to install at any indoor or outdoor location. For outdoor installation, it is complected with the outdoor housing made from industrial plastics with IP65 protection level.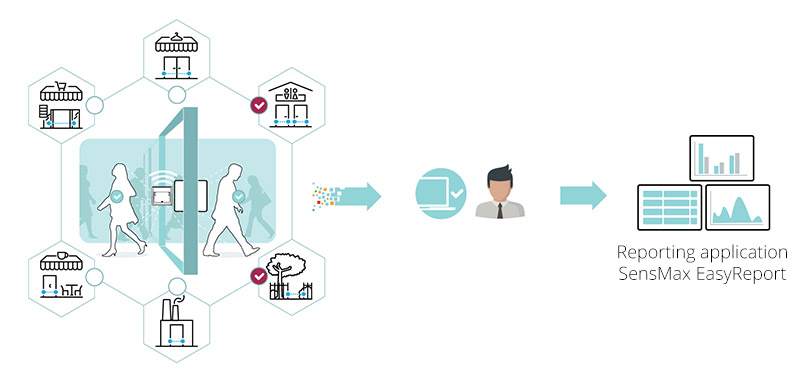 To download statistical data from the beam counter, you need to use mobile data collector SensMax SE/DE. You need to visit the beam counter and read data from them locally to the collector. After that, you can import data from the data collector via USB to any PC or laptop with preinstalled SensMax EasyReport application to check data within many ready to use statistical reports per hour, day, week, month and year.

Wireless setup – very easy wireless installation without any cabling works.

Internal memory – beam counter records 150 days of hourly statistics.

Movement direction detection – bidirectional people counting for incoming and outgoing visitors.

Autonomous operation – infrared beam counters operate without any connection to IT infrastructure.

Outdoor design – dust and water protected cases made from industrial plastics.

Infrared beam people counting sensor SensMax DE
Operation principle
Infrared beam crossing
Movement direction finding
Bi-directional
Internal memory
150 days of hourly data
Enclosure
Black or white ABS Plastic
Power supply
AA batteries
Battery lifetime
Up to 6-12 months
Data collection
Dimensions
67x67x25mm
Counting accuracy
95% 2m, >2m -1%/m
Passage width
Optimal 1m - 5m, maximum - 9m
Infrared ray angle
Three beams, 6°
Fixture
Double-sided adhesive tape or mounting bracket
Tamper protection
Sound alarm and report in software
This device appears in those solutions:
Get more possibilities for your business