Devices
SensGuard VCNL4010 security sensor
SensGuard VCNL4010 security sensor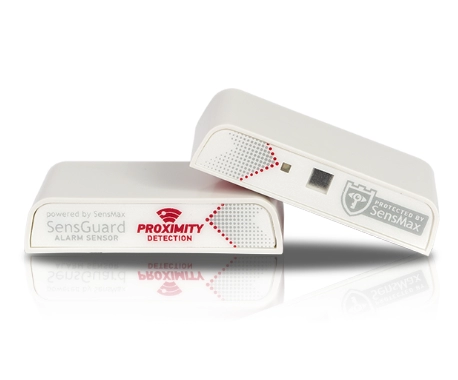 Control concept:

Optometric

Control zone:

20-30mm

Range of communication:

Up to 150m

Signal encryption:

AES128
SensGuard VCNL4010 wireless alarm sensor for object protection. Battery life 5 years.
Price 37 EUR
Description of SensGuard VCNL4010 is a wireless security sensor
SensGuard VCNL4010 is a wireless security sensor for object protection from unauthorized movement and unauthorized door, shelf, or window opening. The sensor using innovative optometric object control technology. The control distance to the object is 2-3cm.
Any unauthorized movement or opening of the protected object will cause a sound alarm at the alarm collector. Security alarm collector produces 90dB loud sound signal and lights alarm zone where the violation happened.

Easy and wireless installation allows using SensGuard VCNL4010 sensor for any location. You can install a small, wireless and elegant-looking security sensor towards any object – a window, a door, a showcase window, towards luxury jewelry, or a painting in an art gallery for getting protection from unauthorized opening/movement of the object.
Wireless security sensor SensGuard VCNL4010 is a one-peace device. Installation takes some minutes only. The security sensor has a built-in battery that is enough for 5 years working in 24/7 mode.
Benefits of SensGuard VCNL4010 security sensors
Wireless setup – simple and easy installation.
Hacking protection – optical sensor protected from magnetic and light influence.
Signal encryption – wireless alarm sensors use AES128 encrypted communication channel.
Long battery life – built-in battery enough for 5 years operation.
One peace device – sensor using optometric object control, so it is excellent for installation at any location.
Application of SensGuard VCNL4010 alarm sensors

Showcase alarm - window protection of valuable goods or jewelry in retail stores.

Window and door alarm - protection from unauthorized opening.

Painting or any other art object protection from unauthorized movement.

Technical parameters of SensGuard VCNL4010 alarm sensors
| | |
| --- | --- |
| Application | Showcase alarm, window opening alarm, door opening alarm, object protection from movement, object movement alarm, wireless security sensor, wireless alarm sensor, painting protection from movement, retail store alarm, mobile phone theft protection |
| Control concept | Optometric object control |
| Control zone | 20-30mm |
| Range of communication | Up to 150m |
| Radio signal frequency | 868MHz |
| Encryption | AES-128 |
| Power supply | Built-in Li-Ion non flammable IEC86-4 safety standard battery 400mAh non rechargeable |
| Battery life | 5 years |
| Dimensions | 55x12x27mm |
This device appears in those solutions:
Get more possibilities for your business