People counting and customer survey system software
SensMax EasyReport software is the analytical application for visitor traffic and customer survey analysis. People counting system software contains more than 20 statistical, analytical, administrative and financial reports.
SensMax EasyReport software for people counters and customer survey buttons

SensMax EasyReport people counting software is the application for displaying data from the people counting sensors and customer survey buttons in various reports and charts.
People counting application show statistical information per every people counting sensor or sensor group.
There is an option to import financial statistics from cash registers into the application for combined people traffic and income reports.
You can see statistical information from people counting sensors within various reports and time spans – per 5 minutes, hour, day, week, month, and year.

It is Microsoft Windows driven application for installation on a local PC or notebook.
You can group people counters according to your company regional structure and drill in from total statistics numbers of a network of objects to a single sensor stats.
The application is compatible with a multi-user environment with options to set up access rights for every user.
The EasyReport application supports automatic data downloading both from SensWeb cloud storage and locally installed SensMax Server software.
How it works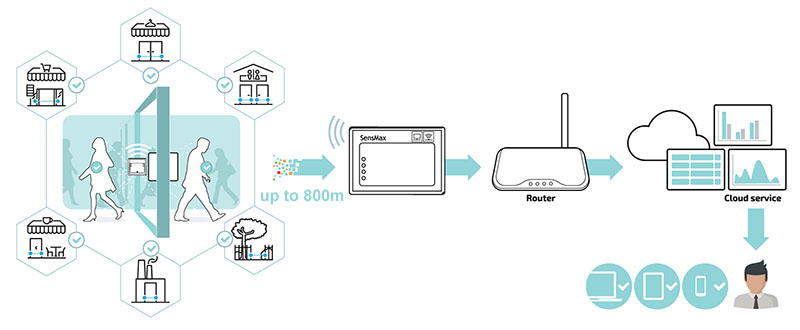 Wireless people counting sensors and customer survey buttons collecting statistical information and delivering it to a central database using LAN/Internet or WiFi Internet gateways every 20 minutes.
There is an option to use people counting or customer survey devices with Timestamp technology for real-time database updates.
SensMax EasyReport application downloads data from the central database and displays it in various reports and charts.
Users getting statistics per every sensor or a group of sensors sorted in a multi-level tree.
There is an option to import financial data from cash registers to combine it with people counting statistics in conversion reports.
Visitors conversion into buyers
SensMax customer counting system gives you the option to import financial data from your POS systems to automate the calculation of customer conversion rates – how many people entered the retail store and how many of them made a purchase. Tracking of visitor-to-customer conversion rate is essential KPI for each retail store.
Most of our customers report 10-15% conversion rate increase after implementing SensMax customer counting solution into their retail business sales and management layers. Customer conversion rate has the direct impact on revenue. Please calculate, how much profit will you earn if your yearly income will go up by at least for 10%?
People counters bring you the opportunity to see real amount of potential customers visiting your stores. People counting system helps to measure how many visitors become customers and evaluate sales staff work effectiveness.
SensMax people counting system gives you the opportunity to automate main customer conversion reports:
Visitors-to-Customers conversion rate shows sales team effectiveness.
Visitors-to-Goods Purchased conversion rate shows upsell effectiveness.
Visitors-to-Money conversion rate shows the effectiveness of marketing activities.
Example1: Sales staff upselling measurement
People counting system shows you the average amount of goods purchased to visitors' amount. It gives you to evaluate upsell effectiveness that connects with sales staff work evaluation. Imagine that you spent some budget for sales staff training. Using people counting system, you can measure an average number of goods in checks and evaluate sales training effect to sales.

Example2: Sales staff work schedule planning
People counters bring you the opportunity to see real amount of potential customers visiting your stores. Imagine if the people counting software shows you that Saturdays are the most popular days, but next most popular day may be Wednesday from 12:00 to 15:00. It means that in most busy times all staff has to be at their desk to serve customers.
Example3: Marketing activity ROI evaluation
People counters help to see the amount of money that one visitor brings you. It is crucial for marketing effectiveness evaluation. Imagine, that you spent 3000$ for radio advertising. You know that one visitor brings you at average 10$, according to the people counting software information. Therefore, you can evaluate advertising effect by checking average visitors amount in stores and check did you add some more customers by your activity or not.
Calculation formula: 3000$/10$=300 visitors. It means that marketing activity was effective if you had attracted +300 visitors comparing to average visiting level. In that way, you can find the most cost-effective ways to attract visitors.
There might be a situation when your ad attracted +500 visitors, and it is effective, but the sales staff were not ready and could not serve all customers, or goods melted, etc.
| Cloud reporting benefits | Client-server application benefits |
| --- | --- |
| Easy access – online reporting access from any browser. | Local software installation – all data stored on your own servers only. |
| Data backup – data stored on SensMax servers with daily backup. | Automatic data import – financial data import from POSes for automated conversion reports. |
| No maintenance costs - no local server needed. | Data export – automatic data export to 3rd party reporting systems via XML, CSV or MySQL data formats. |
| Ready to use reports – static date or dynamic date statistical reports, analytical reports, occupancy trigger reports. | Additional reports – statistical, analytical and financial reports, comparison reports, rating reports, conversion reports, summary reports. |
| Automatic reporting – automatic mailing of reports to multi users. | Time zone support – each people counting sensor may have different time zone settings. |
| Data export to 3rd party reporting system using API. | Work hours filter to exclude technical visits generated by goods delivery, cleaning or maintenance staff. |
| Free software – no subscription fees, no service fees, no renewal fees, it is free for SensMax customers. | Multi-level user management – options to setup multi-level access rights. |
REQUEST TRIAL VERSION OF THE PROGRAM
Software features:
Ready to use reports – more than 20 statistical, analytical, administrative and financial reports for people traffic statistics analysis.


Reports in charts and spreadsheets help to visualize statistics with the option to check detailed information per each sensor.


Financial data import tool with built-in data constructor that allows adjusting most of all POS data formats for usage within SensMax reporting application.


Conversion reports showing three main conversion types – visitor to customer, visitor to money spent, visitor to qty of goods purchased.


Customer survey reports with automatic Network Promoter Score index.


Favorite reports list allows saving most interesting data and get back to it when you need it.