Devices
SensMax Mini DC UPS Powerbank
SensMax Mini DC UPS Powerbank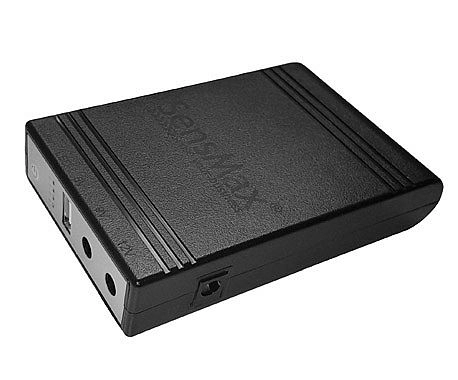 Operation principle:

USB & DC charging

Input power:

DC 12V 2A

Output power:

DC 9V, DC 12V, USB 5V 1A

Battery capacity:

32.56 Wh (8800mAh)

Enclosure :

116x73x23mm
SensMax Mini DC UPS Powerbank for data gateways.
Price 99 EUR
Description of SensMax Mini DC UPS Powerbank
SensMax Mini DC UPS Powerbank designed to provide constant power supply for data gateways used in SensMax People Counting System and Remote Temperature and Humidity Monitoring system. You can use the device as UPSfor local installations and as powerbank for short term power supply for temporary installations.
There are USB and DC power connectors to supply data gateway, as well as internet router. There is an option to change power level for DC connectors 9V/12V and one 5V 1A mode for USB power supply.
When stored, the UPS will self-discharge at a rate that is greatly affected by the ambient temperature. UPS should be fully charged before being put into storage and if they are to be stored for a long period they should be recharged periodically to prevent them from losing their original capacity.
UPS should not be stored for longer than the periods shown below without being recharged: 6 months at 20°C; 3 months at 30°C and 2 months at 35°C. If long time did not use this mini UPS, suggest to charge it once every 3-months.
Technical parameters
| | |
| --- | --- |
| Battery | 18650 Li-Ion |
| Capacity | 32.56WH (8800 mAh) |
| DC Output | 9V+12V |
| DC Output jacks | 5.5*2.5mm |
| USB Output | 5V 1A |
| Dimensions | 116x73x23mm |
Caution!
Equipment voltage must be matching with the mini UPS voltage.
Avoid dropping the product.
Keep the ups away from the heating source, high temperature, water and fire.