Customer satisfaction survey system
Description
SensMax customer satisfaction measurement system is designed to get feedback from visitors or customers in business or public facilities. Customer satisfaction measurement system helps you to understand your actual customers opinions and to determine problematic locations where it is needed to improve customer experience and increase loyalty to your brand, services or products. SensMax client satisfaction survey button is simply to install at any location without any special mounting or cabling works, because it is wireless.

You can record customer feedback history and monitor customer satisfaction trends in one location with local reporting or in network of locations with centralized and automated reporting. You can use SensMax customer satisfaction survey system statistics in combination with SensMax people counting system data within one reporting software SensMax EasyReport.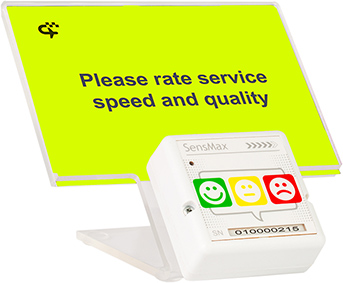 How it works
Wireless client satisfaction survey button is very easy to install on table or special stands without any special mounting and cabling works. It has placeholder for printed question and three types of smileys. Each customer can leave his feedback by pressing dedicated smiley. Built in filtering system helps to avoid spam pressings.
Customer feedback statistics stays in button's internal memory and can be forwarded to any local PC or a central server for processing by using special data collector. Customer satisfaction survey data can be combined with people visiting statistics and displayed in combined reports.

Net Promoter Score
Statistical data from SensMax client satisfaction metering system displayed in various reports per day, month, quarter and year. You can see sort of diagrams or switch to data tables view, as well as export all data in pdf, xls or csv data formats. SensMax Easy report software provides automatic Net Promoter Score reporting.
The Net Promoter Score is a customer loyalty metric. It determines clear and easy countable customer satisfaction score as coefficient between people that promotes and detracts your company. The NPS is powerful tool to understand customer satisfaction and indicate potential growth of information spreading about your company services or products.
The NPS shows how likely a respondent would recommend your company services or products to his friends or colleagues. The NPS index calculated by formula NPS = Promoters (%) - Detractors (%).

Promoters are all persons that response by highest marks, Detractors – persons that responds negatively or behind neutral, and Neutral persons are not counted in the NPS. The bigger NPS you have the most likely customers will share positive feedbacks with their relatives and if NPS is low or negative, then you have to call to action to improve your company processes, staff work quality, and services quality.
Contact us
Using this form or use contact information below: