Server Applications for people counting software
Server tools for installation on a local server. Software pack includes Data Converter, Data Export Tool, User Management Tool, SensMax Server for data collection from sensors network.
SensMax people counting system architecture

SensMax Server software is a tool for centralized data storage on your servers. It receives the data from all SensMax devices through TCP/IP protocol and puts these data into the user's specified directory on the hard disc or into MySQL database.

SensMax EasyReport Admin Tool is a program for SensMax visitors counting system's administrator. The program allows you to centrally manage EasyReport users, edit the names of the sensors, create different levels of access and manage general settings of the system.

SensMax Data Converter is a program for automatic conversion of SensMax visitors counting system database to the other popular formats as TXT, CSV, XSLX, XML. Those users who want to export the data from the counting system to the third systems use this program.

SensMax EasyReport is a robust program for creating graphical reports and processing the data collected by SensMax visitors counting system. The program has 20 built-in graphical reports, and it provides the opportunity to export the created reports into PDF and XSLX formats.

SensMax SensWeb is a web application for creating graphical reports and viewing the static collected by SensMax visitors counting system. Those users who run our web application, they do not need to have their server for storing the data. All the data are stored on SensMax servers and are available at any time. To view the reports, the user needs the only web browser.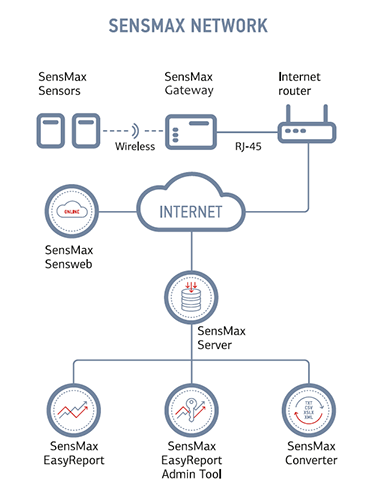 REQUEST TRIAL VERSION OF THE PROGRAM
Software features: