Devices
Wireless people counter sensor SensMax Pro S1 LongRange
Wireless people counter sensor SensMax Pro S1 LongRange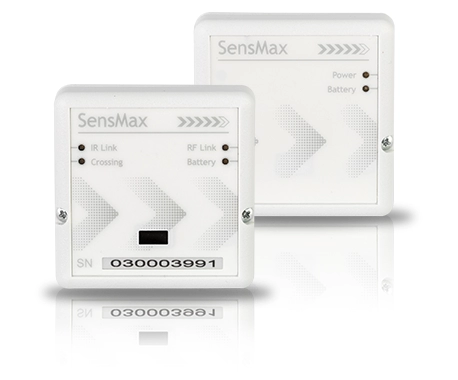 Operation principle:

Infrared beam crossing

Movement direction finding:

Unidirectional

Internal memory :

25 days of hourly data

Power supply:

AA batteries

Battery life:

up to 2 years

Communication range:

up to 150m
Wireless people counter sensor SensMax Pro S1 LongRange designed for counting people in big retail stores. The people counter extended connectivity range is up to 150m. People counters are collecting visitors statistics and forward information to a central database, where you can see data it in various statistical, analytical and financial reports.
Retail people counter SensMax Pro S1 LongRange is a wireless people counting device with an extended radio module for communication range up to 150m. This feature is useful for big retail stores where it is needed to install people counting sensors onto many entrances and collect data from several people counting sensors using one data gateway. This people counters model powered by standard AA batteries and it works up to 2 years. The wireless people counting sensor informs about battery replacement time in the reporting system 3 months before the cell depleted.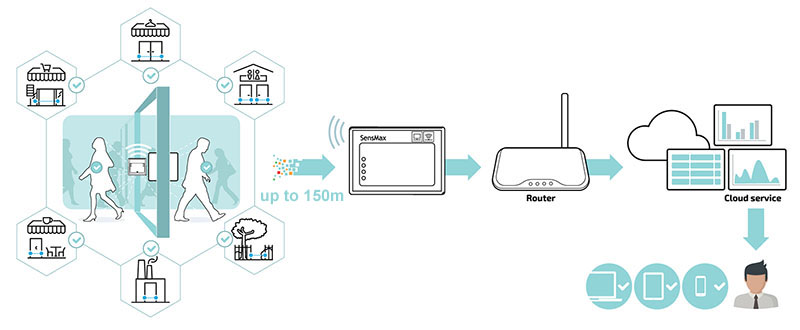 People counter SensMax Pro S1 LongRange has built-in memory for short-term data backup, which is enough to store 25 days of hourly statistics. The sensor is collecting data 24/7 and sending it to the central database automatically every 20 minutes using the SensMax LAN/Internet or WiFi Internet gateway. You can choose where to send data either to SensMax online reporting portal, either install SensMax Server at your data center and store data locally. Please check cloud and locally installed software benefits here.

Wireless device – simple wireless installation without any special cabling and electricity works.

Internal memory – people counter has built-in memory for 25 days backup of hourly statistics.

Long battery life – wireless people counter works from standard AA batteries for up to 2 years.

Automatic operation – people counter collecting data 24/7 and forwards it to an HQ automatically, no staff involved in the process.

Long range – extended radio module with connectivity range up to 150m fits requirements of installation of sensors in a big store.

SensMax Pro S1 LongRange people counting sensor
Operation principle
Infrared beam crossing
Movement direction finding
Unidirectional
Internal memory
25 days of hourly data
Communication range
up to 150 m
Radio module frequency
868 MHz
Enclosure
Black or White ABS Plastic
Power supply
AA batteries
Battery lifetime
Up to 2 years
Data collection
Dimensions
67x67x25mm
Counting accuracy
95% 2m, >2m -1%/m
Passage width
Optimal 1m - 5m, maximum - 9m
Infrared ray angle
Two beams, 6°
Fixture
Double-sided adhesive tape or mounting bracket
Tamper protection
Sound alarm and report into software
This device appears in those solutions:
Get more possibilities for your business