Devices
Wireless customer feedback button SensMax Loyalty Button L3 LongRange
Wireless customer feedback button SensMax Loyalty Button L3 LongRange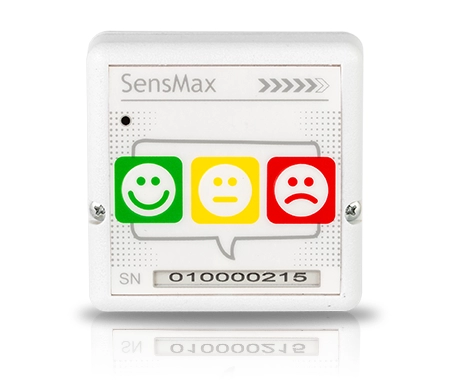 Operation principle:

Three feedback buttons with smileys - happy, sad, disappointed

Internal memory :

25 days

Power supply:

AA batteries

Battery life:

Up to 2 years

Communication range:

Up to 150m
SensMax Loyalty Button is a wireless device with three smileys for collecting customer feedback at any business related location as a cafe, a healthcare organization or a shopping mall. Extended communication range to a data gateway for up to 150m.
Wireless SensMax Loyalty Button L3 LongRange is a device with three emotion icons for customer feedbacks collection. There are three buttons with emotion faces – happy, sad and disappointed, by pressing them the user can leave feedback about any question you ask. It is possible to mount the customer feedbacks button on a plastic question-holder stand. You can place a printed question there, as well. The feedbacks button delivers survey results to a server via a LAN/Internet or WiFi Internet gateway every 20 minutes. This wireless device has extended connectivity range to the LAN or WiFi gateway up to 150m.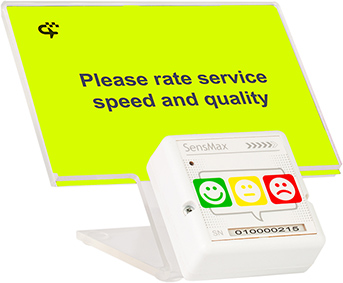 Wireless customer feedback button hasa backup memory for storing data for 1000 records. You can check statistics using SensMax EasyReport application per each feedback button or summary for a group of buttons per day, week, month, and year. The reporting application is calculating Network Promoter Score index automatically. There is an option to combine statistical data from the feedback button with SensMax people counting system statistics in the same reporting application.


Wireless setup – wireless installation of customer feedback buttons is fast and straightforward.

Internal memory – the feedbacks button has a backup memory for storing 25 days of statistics.

Long battery life – wireless feedbacks button works using AA batteries for up to 2 years.

Automatic operation – customer feedbacks button delivers data updates to a server every 20 minutes for 24/7.

Spam protection – the feedbacks button has a spam filter that protects for many pressings in a short time.

SensMax Loyalty Button L3 LongRange wireless customer feedbacks button
Operation principle
Three feedback buttons with smiley faces
Communication range
Up to 150 m
Radio module frequency
868 MHz
Internal memory
25 days
Enclosure
White ABS Plastic
Power supply
AA batteries
Battery lifetime
Up to 2 years
Data collection
Dimensions
67x67x25mm
Spam filter
Intelligent digital filter for spam pressings filtration
This device appears in those solutions:
Get more possibilities for your business