Devices
Wireless bidirectional people counting sensor SensMax Pro D3 LongRange
Wireless bidirectional people counting sensor SensMax Pro D3 LongRange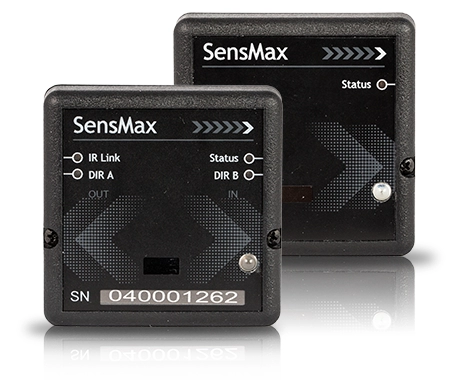 Operation principle:

Infrared beam crossing

Movement direction finding:

Bi-directional

Internal memory :

25 days of hourly data

Power supply:

AA batteries

Battery life:

up to 1 year

Communication range:

up to 150m
Wireless people counter SensMax Pro D3 Long Range people counting in retail stores and medium-small shopping malls. This type of people counting sensor has radio module with extended connectivity range up to 150m. Bidirectional counting algorithm detects visitors movement direction In or Out.
Bidirectional people counter SensMax Pro D3 LongRange is a wireless people counting device with a powerful radio module with extended communication range up to 150m. This type of sensor can detect visitor movement direction IN and OUT. Bidirectional counting shows you how many people visited a shopping mall or a big store through the main entrance, floor by floor, or particular zone. The extended communication range allows using one data gateway for many people counting sensors.
This people counter device is battery powered. Battery life is up to 1 year. People counting sensor scans area 200 times per second, therefore counting accuracy is high up to 94-96%. This type of sensor has a built-in memory for data backup of hourly data per 25 past days.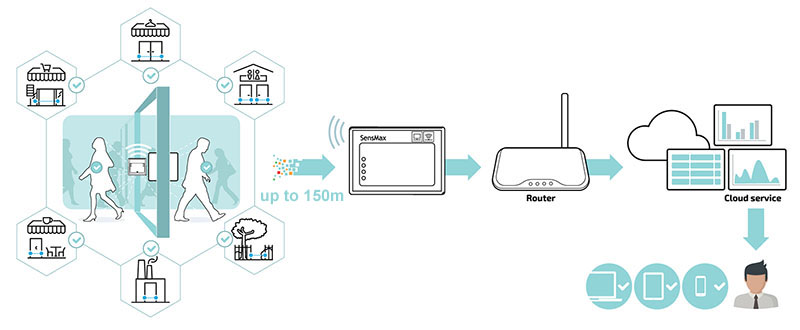 Wireless people counters create an invisible infrared barrier using three rays for movement direction detection. Bidirectional people counting algorithm: one crossing IN = +1 visitor and one crossing OUT = -1 visitor. You can see both stats per each direction and a summary report of two movement directions. The difference between them shows the number of people inside the premises. People counter collects statistics automatically for 24/7 and deliver it to the central database using a data gateway every 20 minutes. There are two types of data gateways LAN/Internet or WiFi internet, as well as two types of software - cloud-based or client-server. People counting system provides various ready to use reports per hour, day, week, month, year. You can find people counting software features comparison here.

Movement direction detection – people counter can detect incoming and outgoing visitors.

Wireless setup – easy and wireless installation of people counters without any mounting or cabling works.

Internal memory – bidirectional people counter built-in memory for backup last 25 days of hourly statistics.

Automatic operation – people counters operate in an automatic way, no staff involvement needed for data processing.

Long range – wireless bidirectional people counters have radio modules with an extended connectivity range up to 150m.

SensMax Pro D3 LR people counting sensor
Operation principle
Infrared beam crossing
Movement direction finding
Bi-directional
Internal memory
25 days of hourly data
Communication range
up to 150 m
Radio module frequency
868 MHz
Enclosure
Black or White ABS Plastic
Power supply
AA batteries
Battery lifetime
Up to 6-12 months
Data collection
Dimensions
67x67x25mm
Counting accuracy
95% 2m, >2m -1%/m
Passage width
Optimal 1m - 5m, maximum - 9m
Infrared ray angle
Three beams, 6°
Fixture
Double-sided adhesive tape or mounting bracket
Tamper protection
Sound alarm and report into software