Devices
SensMax WiFi data gateway
SensMax WiFi data gateway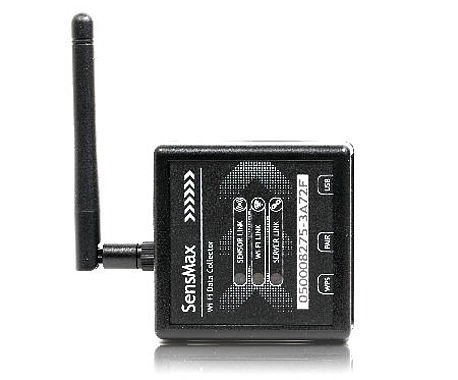 Communication range:

Standard up to 50m, LR - 150m, SLR - 800m

Internal memory :

250 days of hourly data

Internet connection :

2.4 GHz/WPA2-PSK

Power supply:

5V external power supply
SensMax WiFi gateway for reading statistics from wireless people counters and customer survey buttons.
SensMax WiFi LR 255 EUR | SensMax WiFi SLR 275 EUR
Description of SensMax WiFi data gateway
SensMax WiFi data gateway is a device for data downloading from wireless people counting sensors and customer survey buttons. The gateway reading information from sensors every 20 minutes and delivers it to a central database via WiFi Internet connection. Installation and configuration of the device are fast and easy.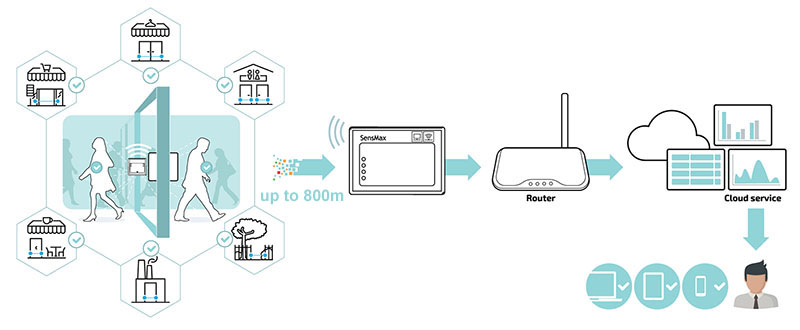 There are two modifications of the gateway: SensMax WiFi LR and SensMax WiFi SLR with different communication ranges of up to 150m and up to 800m. The gateways support data reading from these sensor models: SensMax S1, SensMax D3, and SensMax Loyalty Button. It can serve up to 30 sensors simultaneously. Please choose the same range sensors to make them work, for example, SLR gateway with SLR sensors.
The gateway reading statistics from people counting sensors and customer survey buttons every 20 minutes and forwarding it to SensMax online reporting portal or locally installed SensMax server. It has built-in memory for backup 250 days of hourly data from sensors. The backup memory shared across all connected sensors, in example 10 sensors can store a backup of 25 days of hourly data, each.
Download SensMax WiFi data gateway datasheet here.
Benefits of SensMax WiFi gateway
Easy setup – easy WiFi connectivity setup like any plug and play device.
Back-up memory – it has an built-in memory for backing-up 250 days of hourly data.
Automatic operation – data gateway reads data from wireless sensors and forwards it to the central reporting system every 20 minutes.
Long range – it has extended communication and can serve sensors in a range up to 800m.
Technical parameters of SensMax WiFi gateway
Application
People counting in shopping mall, people counting in retail stores, people counting in offices, people counting in toilets, people counting in libraries and museums
Sensors supported

SensMax Pro S1 LR
SensMax Pro S1 SLR
SensMax Pro D3 LR
SensMax Pro D3 SLR
SensMax Loyalty Button L3 LR
SensMax Loyalty Button L3 SLR

Communication ranges

SensMax WiFi LR up to 150m
SensMax WiFi SLR up to 800m

Qty of serviced devices
SensMax WiFi LR 30pcs of sensors
SensMax WiFi SLR 30 pcs of sensors

Internal memory

250 days of hourly data
Shared memory among sensors
Internet connection
WiFi 2.4 GHz/WPA2-PSK
Configuration port

USB

Radio frequency

SensMax WiFi LR 868MHz
SensMax WiFi SLR 868MHz

Power supply
AC adapter 5V or POE adaptor
Case
ABS plastic, black
Dimensions
90x66x28mm
This device appears in those solutions:
Get more possibilities for your business