Devices
SensMax TCPIP automatic data gateway for wireless people counting sensors and customer survey buttons
SensMax TCPIP automatic data gateway for wireless people counting sensors and customer survey buttons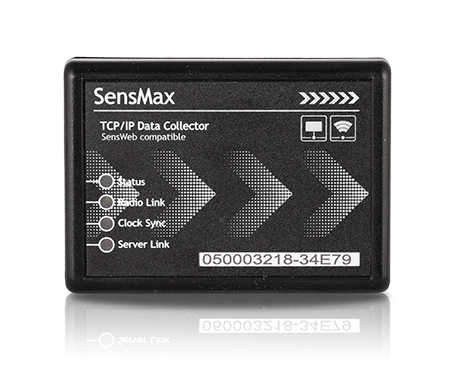 Communication range:

up to 50m

Qty of serviced devices :

10pcs of SensMax Pro S1 sensors or 5pcs of SensMax Pro D3 sensors or SensMax Loyalty Button L3 10pcs

Internal memory :

250 days of hourly data

Internet connection :

standard LAN wire RJ45

Power supply:

AC adapter 5V or PoE
Data gateway for information delivery from wireless people counting sensors and customer survey buttons to a central database via LAN/Internet connection. Connectivity range is up to 50m.
SensMax TCPIP automatic data gateway is a device for data downloading from wireless people counting sensors and customer survey buttons. It delivers data to a central database using LAN/Internet connection. It has RJ45 port for connection to standard or wi-fi routers using LAN cable. The data gateway connects sensors every 20 minutes to read statistics from them. Connectivity range for this type of device is up to 50m. It has a built-in memory for 250 days backup of hourly data. This memory shared among all served sensors, and it means that 10 sensors can store there 25 days each.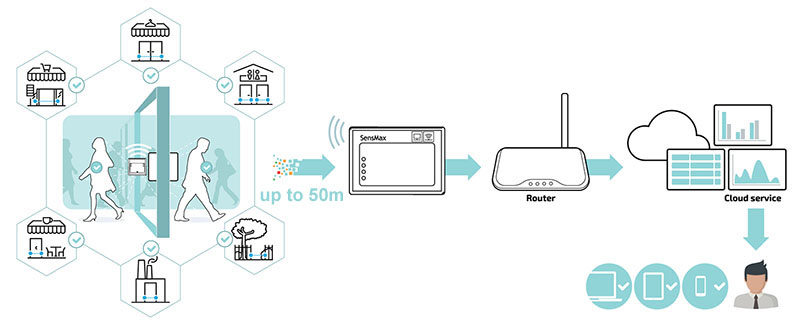 SensMax TCPIP data gateway can serve up to 10 pcs unidirectional people counters, up to 5 pcs bi-directional people counters or up to 10 customer survey buttons. Mixed devices mode supported, i.e., data gateway can serve 3pcs unidirectional people counters, 2 pcs bidirectional ones and 1 pcs customer survey button at the same time. The data gateway has a built-in watchdog for hang-up protection if any electricity failures happen.

Hang-ups protection – data gateway has a built-in watchdog that prevents device hangup in case of any electricity failures.

Internal memory – it has shared memory among people counting sensors to keep a total of 250 days of hourly statistics.

Automatic operation – data gateway reads information from wireless sensors and forwards it to the central database automatically.

Easy setup – plug and play device with easy installation.

This device appears in those solutions:
Get more possibilities for your business