Devices
SensMax 3G LongRange TS real-time data gateway for people counters and customer survey buttons
SensMax 3G LongRange TS real-time data gateway for people counters and customer survey buttons
Communication range:

Up to 150m

Qty of serviced devices :

60pcs of SensMax Pro S1 LR TS sensors or 30pcs of SensMax Pro D3 LR TS sensors or SensMax Loyalty Button L3 LR TS 30pcs

Internal memory :

2000 recordings

Supported GSM standards:

Dual-Band WCDMA/HSPA 900/2100MHz; Dual-Band GSM/GPRS/EDGE 900/1800MHz; StandardSIM card

Power supply:

AC adapter 5V

Additional feature:

Immediate data delivery to a server
SensMax 3G LongRange TS data gateway for real-time statistics delivery from people counters and wireless customer survey buttons. This device uses a 3G/Mobile Internet connection for statistics delivery to a central database. Connectivity range between wireless sensors and the gateway is up to 150m.
SensMax 3G LongRange TS gateway is a device for reading and delivering statistics from wireless people counting sensors and customer survey buttons in real-time mode. This gateway has a powerful radio module with an extended communication range. It can connect a wireless sensor in the 150m range. The data gateway using 3G/Mobile Internet for data deliveryto the server. Internet traffic is 29KB per sensor per day, only. There is an option to store a short-term backup of 2000 recordings into internal memory.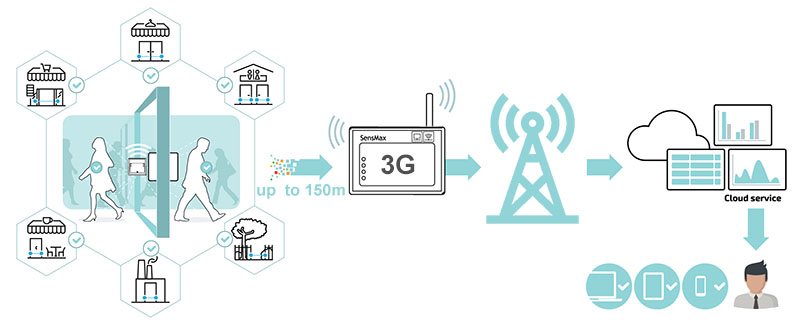 SensMax 3G LongRange TSdata gateway serving up to 60 pcs one-direction people counting sensors, up to 30 pcs two-direction people counting sensors or up to 30 customer survey buttons. You can connect different types of devices there, i.e., 14 pcs people counting sensors and 8 pcs customer survey buttons. Real-time data delivery to the central database is useful for system integration projects where you need to export data from people counters and use it in 3rd party reporting tools. You are welcome to request additional information about the device.

3G connectivity – the data gateway delivers statistics from wireless people counters and customer survey buttons to a central database via 3G/Mobile internet.

Immediate updates – SensMax 3G LR TS gateway is sending updates to the database in real-time mode.

Easy setup – plug and play installation take some seconds only.

Internal memory – the data gateway can store 2000 records in memory.

Long Range – this gateway can read statistics from wireless sensors in up to 150m range.

SensMax 3G Long Range TS gateway for wireless real-time sensors
Devices supported

SensMax Pro S1 LR TS retail people counter

SensMax Pro D3 LR TS wireless bidirectional people counting sensor

SensMax Loyalty Button L3 LR TS customer survey button

Communication ranges
up to 150m
Qty of serviced devices
60pcs of SensMax Pro S1 LR TS sensors or 30pcs of SensMax Pro D3 LR TS sensors or SensMax Loyalty Button L3 LR TS 30pcs
Internal memory
2000 recordings
Supported GSM standards

Dual-Band WCDMA/HSPA 900/2100MHz
Dual-Band GSM/GPRS/EDGE 900/1800MHz

Configuration port
USB
Radio frequency
868Mhz
Power supply
AC adapter 5V
Dimensions
90x66x28mm
Enclosure
АВS Plastic, black
This device appears in those solutions:
Get more possibilities for your business