Devices
SensMax 3G LongRange automatic data gateway for people counters and customer survey buttons
SensMax 3G LongRange automatic data gateway for people counters and customer survey buttons
Communication range:

up to 150m

Qty of serviced devices :

60pcs of SensMax Pro S1 LR sensors or 30pcs of SensMax Pro D3 LR sensors or SensMax Loyalty Button L3 LR 30pcs

Internal memory :

250 days of hourly data, shared memory among served sensors

Supported GSM standards:

Dual-Band WCDMA/HSPA 900/2100MHz; Dual-Band GSM/GPRS/EDGE 900/1800MHz; StandardSIM card

Power supply:

AC adapter 5V
SensMax 3G data gateway for statistical information reading from wireless people counting sensors and customer survey buttons. This device uses a 3G/Mobile Internet connection for data delivery to a central database. Connectivity range between wireless sensors and the gateway is up to 150m.
SensMax 3G Long Range data gateway has radio module with extended communication range. The gateway can connect wireless people counting sensors and customer survey buttons within a range of 150m. The data gateway reads statistical information from wireless sensors and delivers it to a central database using 3G/Mobile Internet, updating it every 20 minutes. Traffic consumption is 29KB per one wireless sensor per day, that is 870 KB per month. This data gateway supports StandardSIM card and main GSM bands standards. There is a built-in memory for backing-up 250 days of hourly statistics from sensors. This memory shared among all served sensors, so one sensor will get 250 days of backup and 5 sensors will get 50 days of backup each.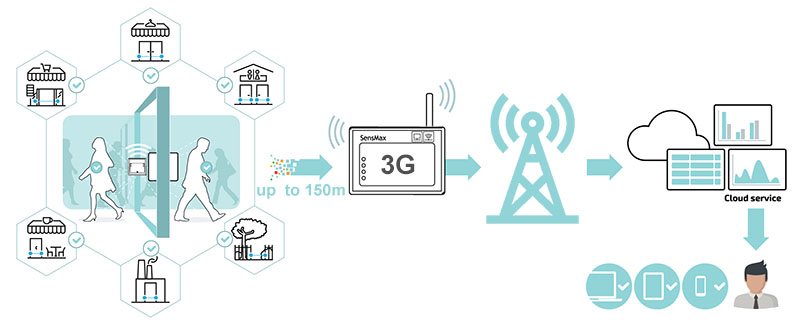 SensMax 3G Long Range data gateway can serve up to 60 pcs one-direction people counting sensors, up to 30 pcs two-direction people counting sensors or up to 30 customer survey buttons. You can use the gateway in mix mode, i.e., 10 pcs people counting sensors and 15 pcs customer survey buttons. The data gateway is protected from hang-ups by a built-in watchdog, so electricity failures cant affect the gateway's work. SensMax 3G Long Range data gateway is good for projects with no possibility to connect a local router, or it is not allowed to use LAN for security reasons.


3G connectivity – the data gateway delivers data from wireless sensors to a central database via 3G/Mobile internet.

Easy setup – quick plug and play installation.

Independent device – 3G data gateway doesn't need connection to local switches or wifi routers.

Automatic operation – this gateway reads data from sensors and sends it to the database every 20 minutes.

Support GSM – 3G data gateway supports all common GSM frequencies.

SensMax 3G LongRange data gateway
Devices supported

SensMax Pro S1 LR retail people counter

SensMax Pro D3 LR wireless bidirectional people counting sensor

SensMax Loyalty Button L3 LR for customer survey button

Communication ranges
up to 150m
Qty of serviced devices
60pcs of SensMax Pro S1 LR sensors or 30pcs of SensMax Pro D3 LR sensors or SensMax Loyalty Button L3 LR 30pcs
Internal memory
250 days of hourly data, shared memory among sensors
Supported GSM standards

Dual-Band WCDMA/HSPA 900/2100MHz
Dual-Band GSM/GPRS/EDGE 900/1800MHz

Configuration port
USB
Radio frequency
868Mhz
Power supply
AC adapter 5V
Dimensions
90x66x28mm
Enclosure
АВS Plastic, black
This device appears in those solutions:
Get more possibilities for your business