Devices
3G gateways for real-time people counters
3G gateways for real-time people counters
SensMax 3G LongRange TS data gateway for real-time statistics delivery from people counters and wireless customer survey buttons. This device uses a 3G/Mobile Internet connection for statistics delivery to a central database. Connectivity range between wireless sensors and the gateway is up to 150m.
SensMax 3G SuperLongRange TS gateway with real-time data delivery to a server. This device reading statistics from real-time people counters and customer survey buttons and delivers it to the server using 3G/Mobile Internet connection. Real-time gateway has a powerful radio module and can gather data from the wireless sensors in range of up to 800m.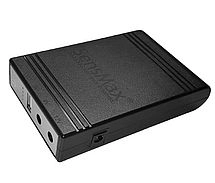 SensMax Mini DC UPS Powerbank provide uninterruptible power supply for data gateways and data collectors when there is no main electricity supply. You can also supply your internet router from the same Mini DC UPS device. Designed for people counting system and remote temperature and humidity monitoring system.